The Ensemble Theatre Honors King in a Magnificent Way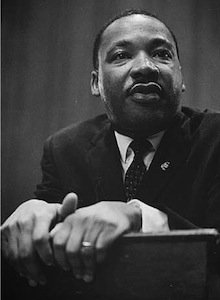 In that spirit and in honoring King's Legacy to help others, I implore all of you to serve as a time of reflection and a call to action.
Here are a few ways you can continue Dr. King's Legacy:
Make A Commitment: (Yes, Any Commitment!)
King's legacy includes making a difference in his unwavering commitment to civil rights and non-violent social change. Making a commitment means giving your time and energy to something that you believe in, and creating positive change in your life and in the life of others.
Dream Bigger
King's dream is well documented and 50 years later, his dream still belts out a powerful message: The point is, think beyond your block, beyond your current job, beyond what you already know. When we dream bigger we also reach further, holding tight to a vision of a better life, one of success and abundance. Dreaming big means having high standards for your life and setting the bar high for yourself.
Pledge An Act of Kindness
Honor Dr. King by accepting an invitation to participate in the King Center's "Love for Humanity: 50 Acts of Service or Kindness" Campaign in commemoration of the 50thAnniversary of the assassination of Dr. Martin Luther King, Jr. Join this worldwide campaign that encourages you to cross the cultural and racial divides by participating in service projects or acts of kindness that will allow you to make a positive impact on your local community.
With still so much to be done, I ask you to reflect on what Dr. King's legacy means to you and how you will personally continue to keep the legacy of Dr. King alive.
Check out more from Houston's Ensemble Theatre by vesting ensemblehouston.com.
Learn more about how you can join the Love for Humanity Campaign by visiting mlk50forward.org.