Trump's Decision to Meet with Kim Jong Un 'no surprise,' Tillerson Say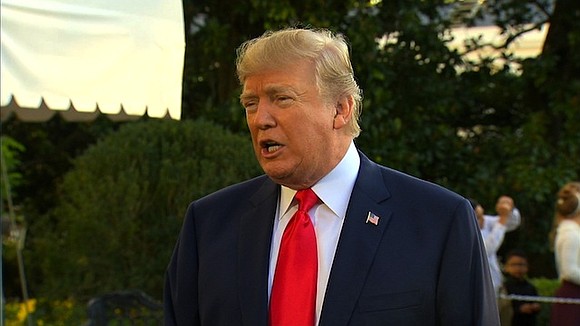 Some observers noted that even while the South Korean delegation was in town, Trump signed off on his plan to impose steep tariffs on steel and aluminum imports -- a move that could impact precisely those allies involved in keeping up the pressure on North Korea.
North Korea has not yet responded to the news of Trump's decision to meet with Kim. The development has also not yet made it into news bulletins on state media.
Russian Foreign Minister Sergey Lavrov said Moscow hoped the meeting would take place, according to Russia's state-run Tass news agency.
"We consider it to be a step in the right direction. Hopefully, the agreement will be implemented," he said, while on a trip to Ethiopia.
Analysis: There are very high, very scary stakes of the Trump-Kim faceoff
Changing times
Hours before the news broke, Tillerson had said direct talks between the US and North Korea were still in the distant future.
"We're a long way from negotiations. We just need to be very clear-eyed and realistic about it," Tillerson said from Ethiopia on Thursday. "I don't know yet, until we are able to meet ourselves face to face with representatives of North Korea, whether the conditions are right to even begin thinking about negotiations."
A day later, the top US diplomat insisted the United States had been "saying for some time that we're open to talks" with the North Koreans and that Trump's decision was "no surprise," coming on the heels of recent intra-Korean dialogue and contacts through other channels.
What was a surprise was Kim's change in stance when he met with the South Korean delegation, when the North Korean leader displayed "not just willingness but his strong desire for talks," said Tillerson.
"So I think really what changed was his posture, in a fairly dramatic way in all honesty, that came as a little bit of a surprise to us as well that he was so forward leaning in his conversations with the delegation from South Korea," he said.
The stunning announcement was the culmination of a diplomatic whirlwind that began with the invitation of a North Korean delegation to attend the Winter Olympics in Pyeongchang, South Korea. That event became the venue for a series of carefully orchestrated diplomatic overtures, which culminated in a visit by a South Korean delegation to Pyongyang.
During the visit, Kim reportedly joked over dinners of Korean hotpot and cold noodles. At one meeting, he said previous missile tests had caused Moon to schedule early morning national security meetings. "I decided today (to freeze the tests) so he will not lose sleep anymore," he said, according to a South Korean presidential official.
How Trump caught his White House and the world by surprise
Sanctions to remain in place
There are many details to be ironed out before any Trump-Kim meeting could take place, not least the location.
The Panmunjom truce village in the Korean Demilitarized Zone (DMZ), one possible venue, hosted meetings between North and South Korea in the run-up to the Winter Olympics.
The South Koreans said the talks could take place as soon as May; Tillerson said it would take "some weeks" to agree on the timing and the location of the meeting.
One obstacle the US State Department faces ahead of talks is a lack of senior diplomats experienced in dealing with North Korea. The Trump administration has yet to appoint a permanent ambassador to South Korea and its top North Korea diplomat, Joseph Yun, announced his surprise retirement last month.
Since Trump came into office, the US has leveled some of its most significant and far-reaching sanctions against North Korea and has also succeeded in pressuring China to further isolate the regime.
That pressure would not abate as the US heads toward the historic talks, the White House said.