Here's how teens are showing their political might in 2018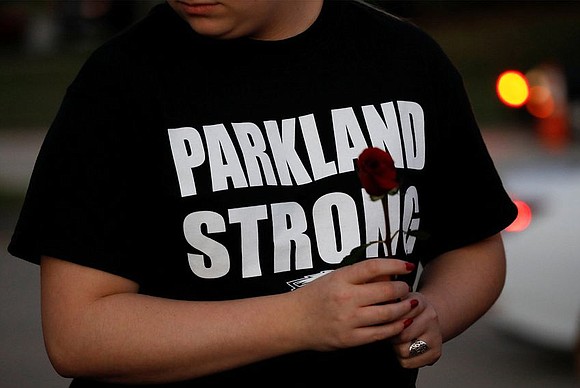 By Saba Hamedy, CNN
(CNN) -- Fueled by the 2016 election results, Winter Minisee said she opted to preregister to vote "the moment she turned 16."
The 17-year-old Californian is not alone. Almost 90,000 16- and 17-year-olds have preregistered to vote in the Golden State since a new law enacted in 2016 gave youth the opportunity to sign up to vote before they are eligible, California Secretary of State Alex Padilla said last week.
The can't vote until they're 18, but they'll be ready.
"The people who are in office aren't really doing their jobs very well," Minisee, who goes to school in Riverside, California, told CNN. "That's partially why I was motivated to preregister to vote."
The numbers suggest youth in California are ready to utilize their political might in the aftermath of an election that left the state in a back and forth battle with the Trump administration.
Some experts, like University of Kentucky College of Law professor Joshua Douglas, believe California's voting reform is part of a broader story on positive voting rights expansions.
Youth political activism on the rise
On Wednesday, thousands of students and teachers across the US will walk out of their schools and universities to press lawmakers to pass stricter gun control laws in wake of the mass shooting a month ago at Marjory Stoneman Douglas High School in Parkland, Florida, which left 17 dead.
This is just the latest example of student political activism in wake of the Parkland shooting. In the last few weeks, students from the high school have rallied to push new gun laws. They posted their outrage on social media, spoke out during CNN's town hall, met with Florida lawmakers, staged a lie-in in front of the White House and sat down with President Donald Trump during a "listening session" hosted by the White House.
Their efforts have put the so-called Generation Z in the spotlight.
"The millennials are the tip of the iceberg," William Frey, a demographer at the Brookings Institution, told CNN's Ronald Brownstein. "But rushing through for the next several decades with the post-millennials is going to be much more diversity and a very different America than we've known in the past. I think this is a big sea change for our country."
That "big sea change" may also lead to more independents, especially in California. According to data from the California secretary of state, a plurality of young people preregistering -- about 44% -- said they had "no party preference," versus 37% who selected the Democratic Party and the 10.3% who selected the Republican Party.
"Independents are becoming the largest political bloc in general, so this is not a surprise," Douglas said. "Many millennials believe that neither of the two major political parties best represent them, and this number [from Padilla's office] confirms that."
Why pre-registration matters
Padilla is optimistic that registration and political activism among teens will continue to grow in California.
"I'm encouraged by the preregistration numbers," he said. "More young people paying attention, registering and eventually voting does well for our future."