NYC helicopter crash puts scrutiny on harnesses in open-door choppers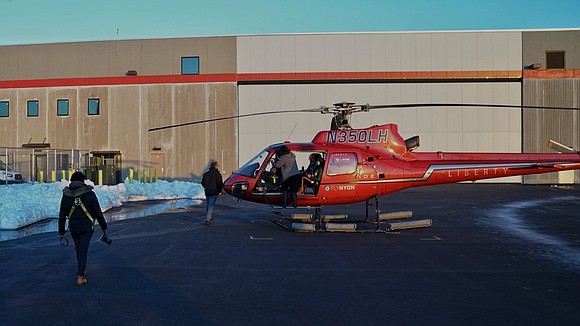 Liberty Helicopters posted a statement on its website after the crash, saying it is "focused on supporting the families affected by this tragic accident and on fully cooperating with the FAA and NTSB investigations." It said it was referring all press inquiries to federal agencies.
Marco Christian Slot, who took a FlyNYON trip recently, shared with CNN the short safety demonstration video shown to FlyNYON passengers on March 9.
"In the rare case of an emergency, the harness can be released by opening the quick-release clip in the back of the harness," a voice says over video of the quick-release clip.
"A cutter is also secured to one of your chest straps and will allow you to quickly cut through the harness if you are unable to reach the quick-release clip."
The video shows a curved cutter located on the harness's left shoulder strap being used to cut through a strap connecting the harness to the helicopter.
The entire safety video lasts about three minutes, and only about 20 seconds deal with how to get out of the harness in an emergency.
Eric Adams, another recent passenger on a FlyNYON ride, said he watched the safety demonstration video, but he told CNN he does not remember being told where the cutter was located.
Verweijen, who has trained in HUET, or helicopter underwater escape training, described the difficulties in escaping the harness during an actual emergency.
"You completely lose the orientation. First of all, you have to wait until the copter is underwater to make sure the rotor is stopped. Because of the weight of the engines, you will always be upside down. Then you have to be able to open your safety belt," she said.
"Next, you have to take out a window to escape, doors will be heavy to open. It is dark, cold and you cannot see anything. The pilot could get out because he was trained," she added.
FlyNYON said in a statement on Twitter that it was fully cooperating with the FAA and NTSB investigation.
"NY on Air is terribly saddened to acknowledge that its customers were passengers on the Liberty Helicopters flight that went down in the East River last night," FlyNYON said.
Clarification: This story has been updated to clarify FlyNYON's connection to the flight.