'I want to go the Olympics so bad,' says US surfer Lakey Peterson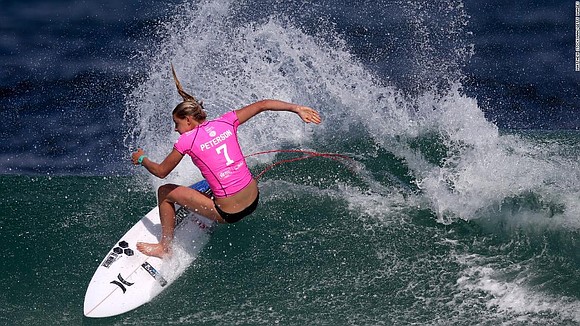 By Bianca Britton and Don Riddell, CNN
(CNN) -- Surfer Lakey Peterson has a natural instinct for competitiveness -- something which she is hoping to display at the Olympics in 2020.
Now that surfing is an Olympic sport, the No. 1 female surfer's goals are even bigger this year and she says the announcement fired her up with new-found motivation.
"I want to go to the Olympics so bad. I think it's game changing for surfing," she says. "It definitely did light a little bit of a fire in me when I heard it was game on."
The 23-year-old remembers vividly the moment she found out surfing would be included at Tokyo 2020.
"I was sitting on the couch and I got an email through on my phone saying we were going to be in the Olympics," she remembers."I just yelled out to my mom ... it was a really special moment. It just sort of triggered something in my mind of like, 'I gotta go surf, I gotta go to the gym, I gotta go work hard.'"
Peterson says surfing's participation in the Olympic is going to transform the world's perspective of the sport and show people that surfing is more than just a lifestyle.
"I think a lot of people who I tell 'I am a professional surfer,' the response half the time is 'oh that's cool, so what are you studying in school?' They think it's more of a hobby."
She says the Olympics will prove that the sport is "legit" to the world outside of the surfing community and fans.
"I think it will be game changing," she says. "I think as an athlete it is going to be really special and we will finally be recognized as athletes -- which is what we are -- and put us on that same level as everyone else that is in the Olympics."
'I used to get so mad when I would lose'
For Peterson, there's nothing worse than walking out of the surf with anything but first place.
"I almost hate losing more than I absolutely love winning. When I was younger I used to get so mad when I would lose at anything, no matter what it was -- I just could not shake it."
The 23-year-old with the unusual name wasn't always called Lakey -- in fact, her real name is Laura. It wasn't until her family visited Canada's Lake Louise that she acquired her new name.
"My middle name is Louise ... So everybody was calling me Lake Louise and my brother just randomly -- he was really young as well at the time -- said "Lakey" and I just loved it."
She was such a tomboy, she says, that she found the name Laura "too girly."
"Ever since then (Lakey) has stuck and now it's my name. I've had a few people come up to me and say that they named their kids "Lakey" and I haven't had the heart to tell them that Laura was my true name," she laughs.