Allen Maldonado on The Last O.G., SuperFly and Giving Back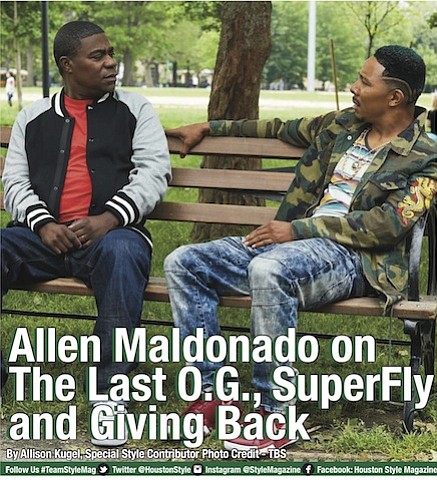 Allison Kugel: In the episodes I've watched so far, there hasn't been much co-parenting going on with Tray's kids. How involved will Tray and Cousin Bobby be in Tray's kids' lives, in upcoming episodes?
Allen Maldonado: There's a natural progression that takes place. He's been in prison for fifteen years, so she's got to feel him out and get an understanding of who he is now. Who she knew was the man who was locked up fifteen years ago. You'll see a natural process we will go through with the kids and that relationship. In upcoming episodes you'll see them be more and more involved in everybody's lives. That said, the story leaves a lot of room for mistakes and comedic situations.
Allison Kugel: You have a history with Tiffany Haddish going back to the beginning of both of your careers. Tell me about working with Tiffany, back then, and now…
Allen Maldonado: Just being able to see her star rise over the past couple of years, knowing her several years back, when we did a television pilot that never saw the light of day… from our first interaction meeting her on that set, she was hilarious back then. To be able to see her grow into the star she is, and the beautiful person she is, I couldn't be prouder to call her my co-star on this show.
Allison Kugel: What qualities did you see in her back then that made you say, "She's going places?"
Allen Maldonado: She was true to herself and organically real, with a leading type of mentality. That's a quality that Tracy [Morgan] shares as well. A lot of superstars have that confidence to say, "This is who I am, and take it or leave it." She was always assertive in that way, and her style of comedy always resonated with me. It's real and coming from her truth. The world is now seeing her talent, and it's her time.
Allison Kugel: Your character, Cousin Bobby, is a classic comedic sidekick. There have been many classic comedic sidekicks throughout television history. Did you borrow inspiration from any of those?
Allen Maldonado: Cousin Bobby came from a real place. I didn't really draw from a past television character.
Allison Kugel: Did you draw inspiration from your own life?
Allen Maldonado: I drew upon my life and different family members I knew growing up, and that one cousin who has always been by himself and when he finds you it's like he's being resuscitated back to life. Suddenly, he's driven to do things he was never driven to do before, because of your presence and the way he looks up to you. That's where Cousin Bobby came from for me.
Allison Kugel: Will we see an evolution take place with Cousin Bobby?
Allen Maldonado: I would hope so! I'm very excited to say that I'm on the writing staff for the second season of the show. Certain things I can't reveal; writer's code.
Allison Kugel: But you'll have a say in what happens to your character..