Time's Up Takes Aim at R. Kelly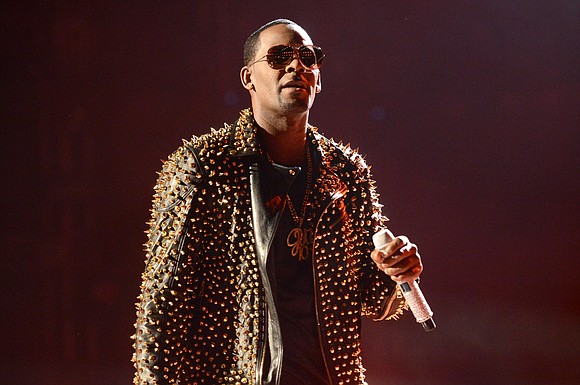 By Lisa Respers France, CNN/StyleMagazine.com Newswire
R. Kelly began trending on social media after Bill Cosby was found guilty last week, with some theorizing the R&B singer could be the next celebrity to be held accountable for alleged sexual misconduct.
"Bill Cosby was found guilty on 3 counts of sexual assault today,"one person tweeted. "R. Kelly is up next on the chopping block," just one of many online posts calling out the singer.
Now the Women of Color (WOC) group within the Time's Up movement is calling on the entertainment industry to cut ties with Kelly, who has long been the subject of allegations of sexual abuse and the mistreatment of women and underaged girls.
In 2002, Kelly was indicted on child pornography charges for allegedly videotaping himself having sex with an unidentified underage girl. The case went to trial in 2008 and he was acquitted.
In 2017, a 24-year-old woman alleged she had a sexual relationship with Kelly when she was a teen. Kelly denied the accusation and no criminal charges were filed.
Kelly has been embroiled in controversy since an explosiveBuzzfeed article last summer claimed the singer is holding a group of adult women against their will as part of what some of their parents say is a "cult."
Kelly has repeatedly denied any wrongdoing.
On Monday, the WOC group withing Time's Up posted an open letter about Kelly. The letter begins, "To Our Fellow Women of Color: We see you. We hear you. Because we are you."
"For too long, our community has ignored our pain. The pain we bear is a burden that too many women of color have had to bear for centuries. The wounds run deep," the letter continues. "As women of color within Time's Up, we recognize that we have a responsibility to help right this wrong. We intend to shine a bright light on our WOC sisters in need. It is our hope that we will never feel ignored or silenced ever again."
The letter also outlines their endorsement of #MuteRKelly, an existing online campaign that has recently gathered steam.
Time's Up is calling on various businesses, including RCA Records, Spotify and
Apple Music, to stop doing business with the singer.
"The scars of history make certain that we are not interested in persecuting anyone without just cause," the letter states. "With that said, we demand appropriate investigations and inquiries into the allegations of R. Kelly's abuse made by women of color and their families for over two decades now."
Kelly's manager issued a statement in response to the Time's Up letter and #MuteRKelly campaign.
"R. Kelly supports the pro-women goals of the Time's Up movement. We understand criticizing a famous artist is a good way to draw attention to those goals -- and in this case, it is unjust and off-target," the statement read in part.
"Soon it will become clear Mr. Kelly is the target of a greedy, conscious and malicious conspiracy to demean him, his family and the women with whom he spends his time," the statement continued. "R. Kelly's music is a part of American and African-American culture that should never -- and will never -- be silenced. Since America was born, black men and women have been lynched for having sex or for being accused of it. We will vigorously resist this attempted public lynching of a black man who has made extraordinary contributions to our culture."