Phil Mickelson 'challenges' Tiger Woods to golfing duel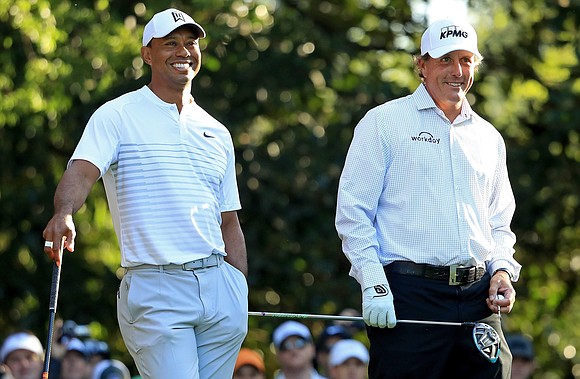 Mickelson said Woods' performances in the early 2000s -- he won four straight majors from 2000-2001, including the US Open by a record 15 strokes -- was the "benchmark" and the "greatest" golf ever played.
"I don't think anybody... will ever see that level of play again," he said.
"It was the most remarkable golf in the history of the game, and I think unrepeatable. I think it was that good. I look at 2000 as being kind of the benchmark, at the US Open as being the greatest golf I've ever witnessed and I believe ever has been played.
"And it sucked to have to play against him. It really did."
He added: "The guys today look back, and they say, come on, how much better could he have been and so forth, and it just goes to show you that they weren't there to witness it."
'Harder to win than a major'
For his part, 14-time major winner Woods said Mickelson was the name he always looked for on a leaderboard.
"We have always looked at each other and said, where is he on the board," he said. "That's what Arnold (Palmer) and Jack (Nicklaus) used to do all the time. They'd always try and find, okay, what's -- what's Jack at. And the same thing with Jack, where's Arnie at. It's been either way for our entire careers.
"For me to be able to play with a person I've gone against for over two decades, it's a lot of fun."
The Players Championship, held over the exacting Stadium course with its iconic island-green 17th, attracts the deepest field of the season and ranks for many as akin to a major. It is often dubbed golf's "fifth major."
Jordan Spieth even said it was "harder to win than a major."
"If you win here, you can win anywhere else," he told reporters.