Scott Pruitt unapologetically defends EPA tenure amid blistering criticism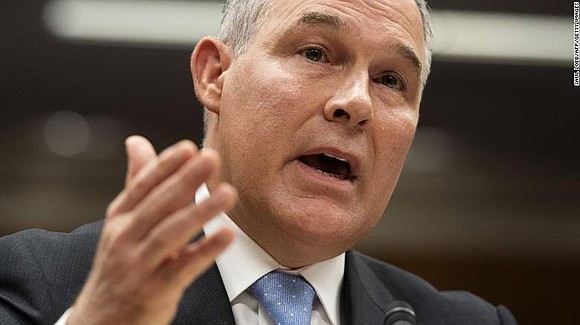 Udall issued some of the harshest criticism of Pruitt, calling his leadership at the EPA "a betrayal of the American people."
"You have used your office to enrich yourself at the expense of the American taxpayer and public health and such abuses have led to several investigations," Udall said.
Pruitt's previous testimony and what's happened since
In his last congressional testimony about three weeks ago, Pruitt was pressed about his unprecedented security detail, travel practices and massive raises given to aides.
At those hearings, Pruitt told lawmakers the $43,000 soundproof booth installed in his office is not rated for classified materials, the explanation he had previously used to defend the purchase. Pruitt also said he had given his chief of staff the authority used to grant two close aides massive raises, contradicting his claim in interviews to have no prior knowledge of the pay boosts. A whistleblower said Pruitt lied about not retaliating against aides who questioned his decisions. And the inspector general said Pruitt misrepresented to Congress a memo he provided them about security concerns.
President Donald Trump expressed his confidence in Pruitt as recently as last week at a meeting with automakers, where Pruitt sat one seat away from Trump.
Since Pruitt's April testimony, more revelations have come out about Pruitt:
The EPA Inspector General undercut Pruitt's rationale for his around-the-clock security detail. At Pruitt's request, the enhanced protection begin on his first day in office, the inspector general said, while Pruitt and his aides have pointed to a memo dated six months into his tenure as justifying justification the detail. The protection team is several times larger than the one used by his predecessors and cost taxpayers at least $2 million last year for salaries alone, CNN has calculated.
*The inspector general told Congress this week it plans to open a new probe that will "review whether Administrator Scott Pruitt is complying with the Federal Records Act and the EPA's Records Management Policy when using multiple email accounts." Records show four accounts were created for Pruitt. His spokesman has said one is used for administrative tasks, such as scheduling, and another was used only briefly.
*Three key Pruitt aides have left the agency, including his top spokeswoman, the head of his security detail and the controversial ex-banker Pruitt tapped to lead environmental cleanup projects.
*Among Pruitt's guests at a dinner in Italy last year was Cardinal George Pell, the Vatican official who has been charged with sexual abuse. At the time of the dinner, Pell had not been charged but was under investigation. Pell has pleaded "not guilty" for those charges.
*Internal emails show how EPA officials shielded Pruitt from facing questions from the public and reporters. "My sincere apologies for causing any difficulty but we cannot do open q&a from the crowd," Pruitt's scheduler emailed the host of one event Pruitt would attend.
*Industry lobbyists helped plan two overseas trips for Pruitt, including a visit to Morocco and another to Australia that was canceled due to hurricanes. "Rick and I will attend and will be present but will not be listed as members of the delegation," wrote one of the lobbyists.
*CNN uncovered an "executive protection" playbook posted by the security company owned by Pruitt's now-departed security chief. Among the tips from the 2015 post: "Make protection feel like a perk" and "eliminate many of the usual annoyances of travel."
*Hugh Hewitt, a conservative radio host, personally arranged a meeting between Pruitt and California water officials. Within a few months, Pruitt announced a groundwater cleanup project in the area would be a priority for the Superfund cleanup program.
Two of Pruitt's toughest critics -- Sens. Tom Carper of Delaware and Sheldon Whitehouse of Rhode Island, both Democrats -- do not sit on the subcommittee that will question Pruitt this week, but have requested the Republican chairman overseeing their committee bring in Pruitt.
Also not on the subcommittee is Republican Sen. Chuck Grassley, who on Tuesday cited a biofuel decision when announcing he is considering calling for Pruitt's resignation.