Chrissy Teigen and John Legend introduce their son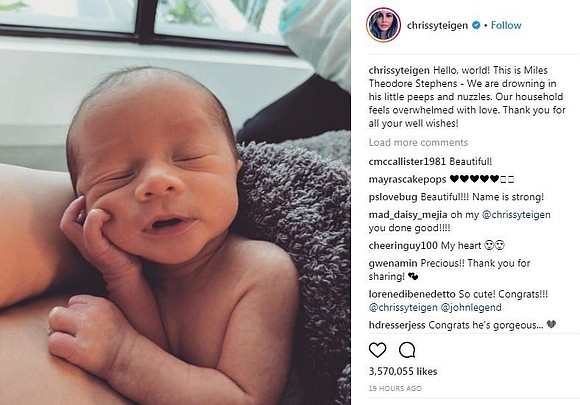 By Lisa Respers France, CNN
(CNN) -- The world has finally gotten a glimpse of a new Legend.
Chrissy Teigen shared a photo of her and John Legend's new son Sunday on social media.
"Hello, world! This is Miles Theodore Stephens - We are drowning in his little peeps and nuzzles," Teigen wrote in the caption of a picture showing the baby sleeping. "Our household feels overwhelmed with love. Thank you for all your well wishes!"
Teigen had days earlier tweeted a hint that she had delivered the new baby, who joins big sister Luna, born to the couple in April 2016.
Chrissy Teigen hints at baby No. 2, tweeting: 'Somebody's herrrrrrre'
Being postpartum hasn't stopped Teigen's savage trolling skills on Twitter.
She teased Legend about attending Sunday night's Billboard Music Awards.
Billboard Music Awards 2018: Check out the complete list of winners
"Wow didn't u just have a baby John smh go take care of it !!!!!!," Teigen tweeted, along with a pic showing Legend on the red carpet. "Disgusting."
She also tweeted to remind Legend, whose legal name is John Stephens, that he needed to be home by 9 p.m. as it was "shortrib night" in their home.
Legend played along, tweeting "Did somebody say short ribs?" with a video of himself saying he was already at the airport and would be home for dinner by 8.
"Hommmme," Legend later tweeted along with a video showing said short ribs simmering on the stove.
"This is why I rushed home," Legend said in the video. "Oh yeah."