Harvey Weinstein is charged with rape and sex abuse in cases involving 2 women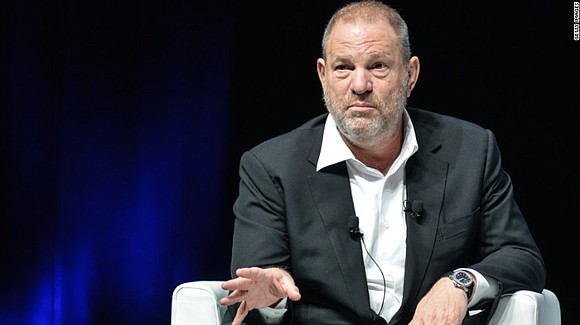 "I, and so many of Harvey Weinstein's survivors, had given up hope that our rapist would be held accountable by law. Twenty years ago, I swore that I would right this wrong. Today we are one step closer to justice," actress Rose McGowan, one of the first women to publicly accuse Weinstein of assault, said Thursday.
"We were young women who were assaulted by Weinstein and later terrorized by his vast network of complicity. I stand with my fellow survivors. May this give hope to all victims and survivors everywhere that are telling their truths," she said in a statement to The Hollywood Reporter.
Dozens of accusations
Weinstein has been accused of rape, assault and other forms of sexual misconduct. Weinstein's representative has said he sought treatment after the accusations, and Brafman repeated in his statement Friday that his client has said he "never engaged in non-consensual sexual behavior with anyone."
Dozens of women have come forward publicly to accuse Weinstein of misconduct after reports in 2017 about his treatment of women, including actresses with whom he worked.
Two of those women, Asia Argento and Ashley Judd, tweeted an article Thursday about Weinstein turning himself in. Paz de la Huerta, another Weinstein accuser, declined to comment on the news.
"After decades of abusing women with impunity, finally, the beginning of the end of Harvey Weinstein's reign of terror," Argento said in a statement to CNN. "I wish I could say this brings me peace. Unfortunately, the damage he has done to women can never be undone. He belongs in prison."
The women said Weinstein threatened to ruin their careers if they went public with their accounts. On Thursday, New York Times reporter Jodi Kantor recounted in a tweet some of his threats and declared "not anymore."
Ronan Farrow, who wrote the New Yorker's report on Weinstein, told CNN Friday that many of the producer's accusers believed they'd never see justice.
"Not in a million years, and one of the hardest conversations I had over and over again with these brave women was that in addition to the sacrifice they were making in telling this story, they didn't think they would ever be heard if they did take that leap, let alone to see actual accountability," Farrow said.
Weinstein has kept a low profile since his downfall. He was fired from the company that bears his name just days after the allegations first surfaced in the media. The Weinstein Company filed for bankruptcy earlier this year and what remains of it is set to be sold. His wife, Georgina Chapman, left him in October.
Movement gains steam
The allegations catalyzed the decades-old #MeToo movement that calls attention to sexual misconduct. The heightened scrutiny has rippled across industries and ensnared numerous powerful men, from journalists Matt Lauer and Mark Halperin to chefs Mario Batali and John Besh.
On Thursday, CNN reported that several women have accused actor Morgan Freeman of inappropriate behavior and harassment.
MeToo also sparked conversations about everyday workplace harassment.
Tarana Burke, who started #MeToo, said Weinstein's intention to turn himself in marked a turning point in the conversation.
"This moves from the court of public of opinion into an actual courtroom," Burke told Variety.
"That is super cathartic for a bunch of the survivors, or even survivors who are not necessarily victimized by him."
\