One in Four Latino Registered Voters Have Voted Early in Election 2018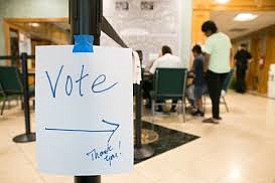 WASHINGTON, D.C. – One day before voters head to the polls for the 2018 midterm elections, the National Association of Latino Elected and Appointed Officials (NALEO) Educational Fund and Latino Decisions released the results of the final wave of its ten-week national tracking poll of Latino registered voters.
Results from the tenth week of the NALEO Educational Fund/Latino Decisions National Weekly Political Tracking Poll offer exclusive insights into the Latino electorate this year, including early voting rates, opinions on the Central American migrant crisis, political activity participation, campaign and party outreach, and more.
Each week a fresh sample of 250 registered voters was added and combined with the previous 250 interviews to create a rolling average of the electorate, consistent with most tracking polls methodology. This week's poll of Latino registered voters nationwide was conducted by Latino Decisions from October 24 – November 4, 2018 (with a margin of error of 4.4 percent).
"The Latino electorate is poised to make history this year, with NALEO Educational Fund analysis projecting that more than 7.8 million Latino voters will cast ballots in Election 2018," stated Arturo Vargas, NALEO Educational Fund chief executive officer. "We know that any advancement we make as candidates and voters this year will be despite the dismal outreach efforts we saw from our nation's political parties, campaigns and candidates. Latino voters did not sit idly by as we were ignored in yet another election year, choosing instead to take our future in our own hands by encouraging those around us to register and vote in Election 2018."
Key findings include:
Latinos are already making their voices heard in Election 2018. Interest in Election 2018 is high. More than one in four (25 percent) Latinos have already voted early this year, with several counties nationwide already reporting unprecedented early voting turnout numbers. Survey results show that Latino voters understand how important it is to participate in Election 2018, with 67 percent stating that voting in Election 2018 is more important than it was in the 2016 presidential election.
In the absence of significant outreach from campaigns and candidates, Latinos opted to self-mobilize this election. With only half of Latino voters contacted in the lead up to Election Day (50 percent), the Latino community has stepped up by self-mobilizing in Election 2018. More than 68 percent of Latino voters surveyed reported that they had encouraged a family member or friend to register or vote in this week's elections.
Latino voters have attended rallies and protests, in addition to donating to candidates and campaigns in Election 2018. We are seeing Latino voters engaged in an array of political actions this year. One in five Latino voters (20 percent) attended a rally or campaign event in support of a candidate, with another 15 percent reporting they had attended a protest or demonstration against a candidate or issue. Other activities include donating money to a campaign or candidate (17 percent) or volunteering to help a candidate or voter outreach drive (16 percent).
Immigration gained the most traction among Latino voters in the lead up to Election Day. In week one, immigration ranked as the third most important issue for Latino voters (17 percent), following stopping President Trump and the Republican Agenda (22 percent) and lowering healthcare costs (20 percent). The issue surged to number one over the course of the ten-week tracking poll, with 28 percent of Latino voters stating that protecting immigrant rights is the most important issue to them this election.