The war on voting rights: Will your ballot count?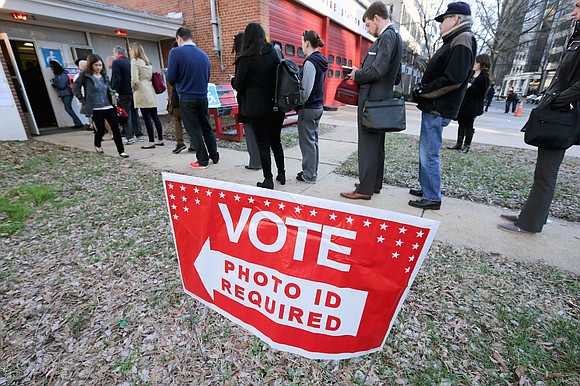 Under a new requirement in North Dakota, Native Americans must show specific forms of photo ID bearing their street address. The problem is there are few actual street names on the reservations. Many Native American residents receive their mail by P.O. box and do not know their address, much less have a photo ID with it imprinted. Critics say this is an additional layer of bureaucracy that suppresses this community. North Dakota is where Democrat Heidi Heitkamp won her Senate seat by fewer than 3,000 votes in 2012.
Over the summer, controversy swirled after a proposal to close seven of nine polling places in a majority-black county in Georgia.
A recent CNN investigation found that one suburban Georgia county tossed hundreds of absentee ballots due to discrepancies with birthdates, addresses and matching signatures. Of the 595 rejected absentee ballots in Gwinnett County, more than 300 belonged to African-Americans and Asian-Americans. Last week, a federal court judge ordered Georgia election officials to halt the rejection of absentee ballots due to mismatched signatures.
A struggle in Georgia
Meanwhile, Georgia Secretary of State Brian Kemp, who is also the Republican nominee for governor, faces backlash and lawsuits after the Associated Press reported his office suspended more than 53,000 voter applications. Almost 70% were registrations by African-Americans. Kemp's office maintains that those voters will be allowed to vote, most likely by provisional ballot, if they bring the proper ID.
Kemp's Democratic opponent, Stacey Abrams, says the suspended list is a classic example of voter suppression.
"What about those low-propensity voters... They don't know they can go to the polls," she said. "They get a confusing letter saying there is something wrong with their registration, and, more than likely, they will sit out this election. The miasma of fear that is created by voter suppression is as much about terrifying people about trying to vote as it is about blocking their ability to do so."
The Kemp campaign calls the accusations of voter suppression in Georgia "bogus" and points to a "record high" of voter registrations and turnout under Kemp's tenure.
It's the same response Kansas Secretary of State Kobach gives when questioned over the impact of his own state's strict voter ID laws and whether they disenfranchise voters.
"I'm trying to stop voters from committing fraud, which effectively disenfranchises the people who are voting legitimately... Voter fraud infects the whole system. Not only does it potentially tip a result, you know, to the candidate that didn't actually win the election, it also affects the willingness of people to vote," Kobach said.
Kobach is a strident believer that measures like requiring photo identification on Election Day and proof of citizenship when registering to vote, plus purging outdated voter rolls, are necessary to maintain election integrity.
'Just part of their strategy'
Critics call them tactics that threaten democracy.
"Over the course of our history, it has not been exclusively one party that has perpetrated voter suppression. It has been people in power against people who have less power," says Jason Kander, a Democrat, former Missouri Secretary of State and founder of the grassroots organization Let America Vote. "In the modern iteration of voter suppression over about the last two decades, that has been the Republican Party and it's just very plain to see. It's just part of their strategy."