Israel defends secret Gaza operation that led to death of IDF solider and Hamas commander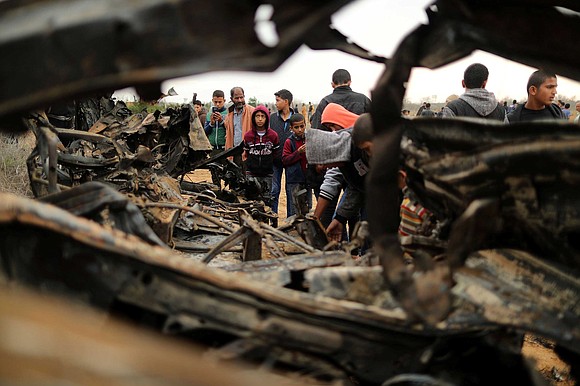 Ten other people were wounded after rockets were fired towards the town of Sderot.
Three people were killed and foud injured in Israeli strikes on Gaza, the Palestinian Ministry of Health said. The ministry said it had increased the level of alertness at hospitals and among ambulance units in Gaza, in anticipation of a possible escalation of hostilities.
Hamas and Islamic Jihad, the two prominent militant groups in Gaza, announced that their fighters were also on high alert. Israel blamed Islamic Jihad for the last sharp escalation over Gaza two weeks ago, accusing the group of firing dozens of rockets at Israel at the instruction of Iran.
The developments came just days after Qatar sent $15 million into Gaza in an attempt to alleviate the humanitarian crisis in the coastal enclave and reduce tensions along the Gaza border, which has seen often violent clashes between Israeli security forces and Palestinian protesters.
Hamas hailed the money as a victory for the Islamist group, saying it would go to pay salaries of civil servants in Gaza, and help care for those wounded in the weekly clashes.
Netanyahu, who approved the transfer of the Qatari money through Israel into Gaza, had defended the payments, saying in Paris on Sunday before the latest round of violence that he was trying to avoid an "unnecessary war."
Speaking to reporters, he said: "I am working in every direction to try to return the calm to the residents of the Gaza periphery and also to prevent a humanitarian crisis in Gaza. This is the decision that the [Israeli] security cabinet has made."
But Netanyahu had also struck a note of caution, suggesting he sees a long-term arrangement with Hamas in Gaza as impossible. "There is no diplomatic solution to Gaza," he said.