Travis Scott Had the Whole City On 'Sicko Mode' and I Hope You Were There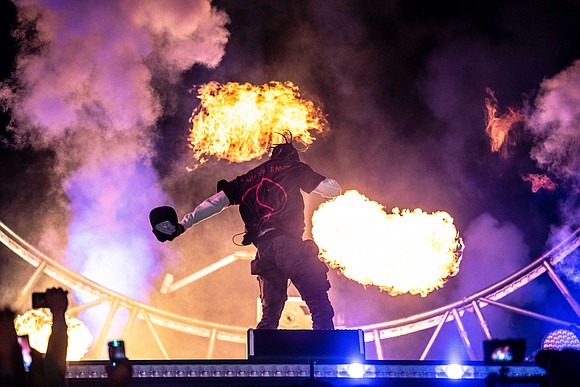 Young Mula was Balenciaga down as he performed "I'm Going In" and other classics. Rae Sremmurd gave us crazy energy as they performed "Unlock The Swag." There were fans crowd surfing while Young Thug performed "Lifestyle." You just have had to be there.
When Trippie Redd came out on stage, the vibe was through the roof. The energy surge from the crowd was about to knock him off stage. Trippie was live.
Before Travis made his grand entrance, the dark staging, the helicopter and the dramatic long-chords played gave the crowd a form of paranoia. Travis shocked the crowd by making his appearance on the smaller stage towards the back of the crowd as he said, "I'm behind you..", right before performing "Rollin', rollin', rollin', got me stargazin'.." Travis let a few fans come on stage to ride the miniature rollercoaster as he performed his many "Day One" hits from 'Days Before Rodeo'. The crowd was insane, and I can't stress that enough.
Gunna, Swae Lee, Young Thug, Don Toliver (H-Town represent), NAV, Trippie Redd all made their presence known on collaborative tracks. "Dark Knight Dummo" was beyond lit. One sort-of comical moment during Travis' performance was when he and Swae Lee were going back and forth on "R.I.P. Screw" in auto tune. You could tell they were improvising a bit at that point. Travis gave us "Antidote" and many other selections that made us glue to his Cactus Jack movement.
Standing in the crowd you could hear everyone saying, "Is Drake going to come out on Sicko Mode?" Nope, no Drake. It was a good time as he performed "Sicko Mode", the little baby-like demon throwing up green gunk was super trippy as the two screens that sat on each side of the stage vibrated with sound. Travis got a little shy on us as he pulled his shirt over his face to shield his emotions while thanking his fans and family. He specifically called out his mom and dad, sister and brother, his grandmother (who is over 90 years of age) and other family members like wife Kylie (yep, he said wife) and daughter. It was a special moment, and you could really feel it.
As if the excitement for what Flame brought to the city wasn't enough, he had the nerve to blow our minds furthermore with the announcement of his store SPACE with long-time friend and DJ Chase B. SPACE will open officially in 2019.
There was a 2-day pop-up shop during the festival and the following day where fans could purchase Oiler Blue Cactus Jack Jordan 4 & the Sail Cactus Jack Air Force One merchandise.
During a press conference, our mayor, Acres Homes' own Sylvester Turner and the City of Houston proclaimed this weekend that November 18th be celebrated as ASTROWORLD Day. Travis was beyond excited to have his own day in the city he loves. He further showed Houston love by supporting the Mayor's Art Scholarship Program, along with other citywide adolescent and youth programs according to KPRC 2. There were dozens of students from local high schools and Texas Southern University in attendance at the conference who will surely benefit from his generosity.
If you grew up going to Astroworld, this was a sentimental ode to our city. Those memories we have are worth gold, especially considering a lot of youth will not able to experience the theme park that brought all sides of H-Town together. I can't imagine what Travis felt like after the festival to bring his friends and those who have played a major influence in his sound together in one gigantic atmosphere. For Travis to give us Astroworld Festival 2018, this one is for the books.