A Conversation With Dubelyoo, Curator of Jack Daniel's Art, Beats + Lyrics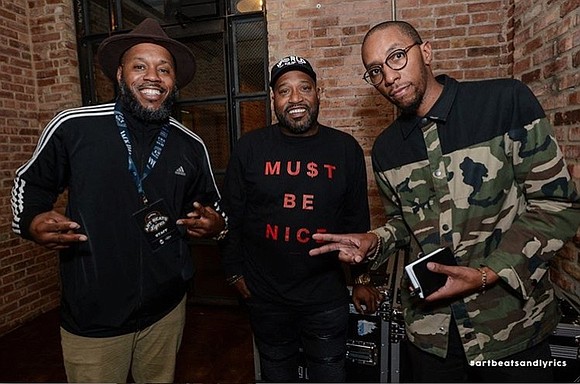 Dubelyoo: Well, in this tour we have left, Miami-Wynwood. Atlanta is one of our big shows, we usually gets about 5,000-6,000 people. Last year we added a whole other section just to fill up the Mercedez-Benz stadium. We are still working on the logistics for the NBA All-Star Week. Afterwards, we are going to the Young Center- Louisville, Kentucky Derby.
HSM: We got a chance to meet and briefly converse with AB+L founder Jabari and we wanted to learn a little bit more about AB+L Radio. What is the connection for the AB+L vision for on air radio? Is it a separate cause?
Dubelyoo: AB+L is a project Jabari spearheaded. It's almost like an off shoot of the show, which is taken place in Downtown-Atlanta. We've had a couple of live streams in the past at different shows.
HSM: Where do you see AB+L in 6 years? The 20 Year Mark.
Dubelyoo: I would like to see us in different countries, that's something I would like to put on the radar, out in the universe. We would like to take this show abroad.
HSM: Do you have any advice for up and coming artists seeking to spread their love of art?
Dubelyoo: Sometimes you have to go out of your usual surroundings to get inspiration; there are a bunch of places. One thing I tell a lot of artists to do is to check out Art Bazile in Miami, FL. If you are really into art, it is definitely a game-changing situation to us. Once you find your new found inspiration take it back to your hometown. It happens in the first week of December every year.
HSM: How can artists get involved with AB+L? How does AB+L select artists?
Dubelyoo: We had open submissions this year, where everyone can submit. We encourage artists and those who feel like an artist should be represented on the tour to tag us on Instagram. We take recommendations. We have people from all over the country including Canada. The light boxes were just part one, holograms are next! We want people to feel good, to see themselves represented, and feeling inspired when they leave a show. One consistent thing we see in every city is an overwhelming amount of talent. We appreciate the love and support, but after the show has left the city. Be sure to go out and support your local artists and talents. Invest in your local artist as well.
HSM: What is your favorite cocktail from Jack Daniel's Tennessee Honey?
Dubelyoo: Ha-Ha, I'm not much of a drinker, but, I enjoy how they tie in the entertainers to their cocktails, like Rapsody (featured cocktail).
Upcoming 2018-2019 Tour
Richmond, VA – September 14
Birmingham, AL – September 28
Chicago, IL – October 12
Atlanta, GA – October 19
St. Louis, MO –November 1
Houston, TX – November 9
*Next show touches down in Miami, FL – December 14
Charlotte, NC – February 15
Louisville, KY – May 4
Follow Dubelyoo on Facebook, Instagram and Twitter @dubelyoo
Check out Dubelyoo's artwork via www.dubelyoo.info
Follow AB+L Facebook, Instagram and Twitter @artbeatsandlyrics
For all things AB+L, visit www.artbeatsandlyrics.com
Fly Straight. Drink Responsibly. @JackDaniels