Powerhouse Business Women Collaborate To Present The REBOOT Women's Retreat
The REBOOT Women's Retreat will feature custom-designed masterclasses that will provide women with the necessary tools to continuously advance their business specifically designed by Dr. Myla Bennett,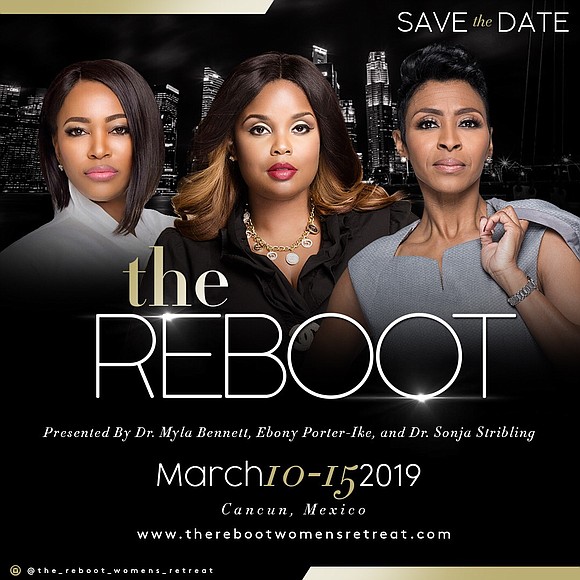 (September 10, 2018- Atlanta, GA) On March 10th through March 15th, 2019, Board Certified Plastic Surgeon and CEO of Ederra Bella Plastic Surgery & Medical Spa, Dr. Myla Bennett, Founder of The epiMediaGroup LLC. and Coinology®, Ebony Porter-Ike and Television Host, Author and Transformation Specialist, Dr. Sonja Stribling will host the inaugural REBOOT Women's Retreat. The 5 day experience of a lifetime will take place at the luxurious Secrets Capri Riviera in Cancun, Mexico providing attendees with an elegant oceanfront atmosphere for them to Release, Recharge, and REBOOT. A must-attend event for well-established boss women, those navigating the startup, or those aspiring to launch a business, the conference will provide transformative connections and inspire like minded emerging leaders to help them excel to new heights through unparalleled business development, immersive discussions, and networking opportunities. REBOOT will also feature custom-designed sessions that will offer attendees tools that fit their individual business needs. They will participate in interactive, possibility-focused masterclass sessions including:
Brand Magnetism featuring Dr. Myla Bennett
Dr. Myla Bennett is the founder of Preserve Your Pretty® and has become one of the most sought after business coaches on the east coast. She is the owner of Ederra Bella Plastic Surgery and Medical Spa®- a multi-million dollar plastic surgery center and has had the pleasure of working with some of the most well known figures in entertainment including Ashley Graham Toni Braxton, Tamar Braxton, Towanda Braxton, Trina and Evelyn Braxton, Kenya Moore, Cynthia Bailey and many more. During the Brand Magnetism Masterclass Dr. Myla will guide the participants through creating an ideal client profile based on the who, the what and the why of their business. With this method the attendee will have a clear picture of exactly who they are trying to attract in their business so they can focus their marketing and branding strategies in a way that will appeal to the clients that they want to work with.
Coinology® featuring Ebony Porter-Ike
With over 15 years of strong business consulting experience with Fortune 500 companies in the space of mergers, acquisitions, energy, public sectors, and entertainment; Ebony Porter-Ike has been seen as the "GO TO PERSON" for resuscitation of failing businesses. She has been known as the guru for assisting new start ups with a comprehensive marketing plan and objective. With a clear view of business, she has worked on brokering deals for reality shows, production of large-scale entertainment, fashion events, national hair shows, and building the brands of industry mega stars. During the Coinology® masterclass Ebony will show attendees how to maximize their revenue while remaining authentic to who they truly are. Coinology will teach the participants the key principles required for a small business owner to target their desired goal and execute on it. It will walk them thru the common reasons for missed opportunities, how to identify your cause for missing the opportunity, and 5 FIRE-PROOF steps required to reprogram your thinking and actions to successfully close more opportunities (or deals).
Born to Be Powerful featuring Dr. Sonja Stribling