Pope meets with leaders of US Catholic Church 'lacerated' by abuse scandal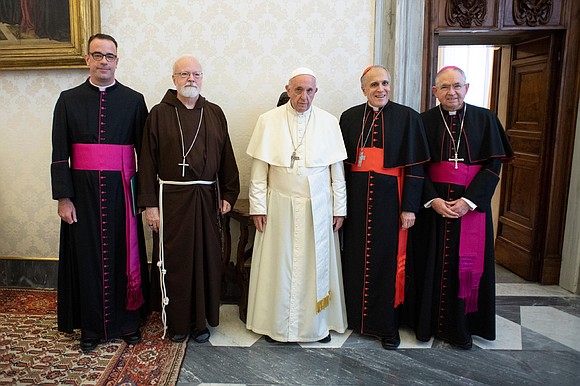 Some of the steps DiNardo is seeking -- such as an "apostolic visitation," an investigation into McCarrick led by the Vatican -- require Vatican approval. DiNardo has said lay people should be involved in the investigation as well.
The US bishops next meet as a body in November in Baltimore, where they are expected to debate and vote on DiNardo's plans.
The Pope is also facing criticism from the Vatican's former ambassador to the United States, Archbishop Carlo Maria Vigano, who says the pontiff was made aware of alleged sexual abuse by McCarrick as early as 2013 and failed to act.
An open letter published on Catholic Women's Forum, which calls on the Pope to respond to allegations by Vigano surrounding the sexual abuse scandal, has gained more than 44,000 signatures in just under two weeks.
On Wednesday, the Pope summoned top Catholic officials worldwide to meet at the Vatican in February to discuss the escalating sexual abuse scandal. The Pope will meet the presidents of the Catholic bishops conferences from around the world in the Vatican from February 21-24, the Vatican said. A CNN Poll conducted by SSRS before the Pope called the February meeting concluded that the pontiff's favorability ratings have nose-dived dramatically.
And Cardinal Donald Wuerl, the embattled archbishop of Washington, will travel to the Vatican "in the very near future" to ask Francis to accept his resignation, a spokesman said Wednesday.
Wuerl is facing increasing scrutiny both over what he may have known about abuse allegations against his predecessor, McCarrick, and how he handled abusive priests while he headed the Diocese of Pittsburgh.
Wuerl has "categorically denied" that any information about accusations against McCarrick was ever brought to him. He has also defended his overall record handling clerical abuse in Pittsburgh, even while acknowledging "errors in judgment."