Florence leaves 'a monumental disaster' in the Carolinas -- with more trouble to come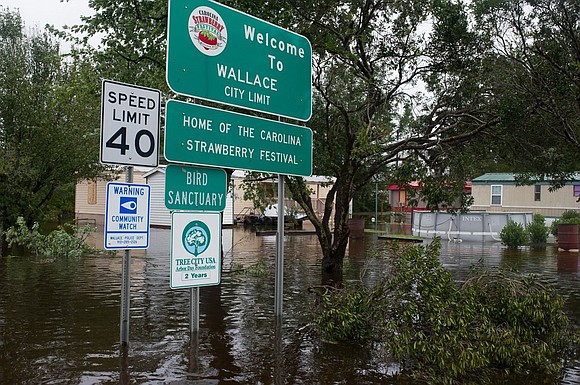 Pender County, just north of Wilmington, is also running out of fuel, Commissioner Jackie Newton said.
River threatens to swallow Lumberton ... again
In Lumberton, North Carolina -- a city submerged by Hurricane Matthew in 2016 -- residents are bracing for potential disaster as the Lumber River seeps through a patched-up gap in the levee system.
The river is expected to crest around 25.7 feet. If the river gets higher than 26 feet, "all bets are off," city public works deputy director Corey Walters said.
Yet one family riding out the storm on the outskirts of Lumberton said they're not budging.
"I just feel comfortable staying. We have our dogs and our property, so we stay," 57-year-old Kenan Chance said.
Her family's homes are still damaged from Matthew, but they survived. Relatives say whether they stay or go, they'll have damage to contend with.
Chance's father, 84-year-old Rembert Walters, says that if his relatives dispersed to different havens, he'd spend all his time worrying about them.
"We're not going to move until this thing's over. It's going to wipe us out or kill us. Or bury us, or something," he said as floodwater crept upon his porch. "'Cause we don't run every time this thing happened."
'Bring your pets with you!'
Some residents said they decided to stay because many emergency shelters don't accept pets. But those who left without their pets faced the wrath of passers-by and social media users.
Freelance journalist Marcus DiPaola tweeted that he helped rescue six dogs in Leland, North Carolina, after they were left locked in an outdoor cage.
"We got them out, but by the time we left, the water was so high that they would have drowned. BRING YOUR PETS WITH YOU! #HurricaneFlorence," he wrote.
Causes of death include electrocution and fallen trees
Of the 20 deaths linked to Florence, 15 happened in North Carolina and five were in South Carolina. They include:
-- A 3-month-old baby died after a tree fell on a mobile home in Dallas, North Carolina.
-- A man died when a his truck hit an overpass support beam on Interstate 20 in Kershaw County, South Carolina.
-- A man drowned in an overturned vehicle on a flooded road in Georgetown County, South Carolina.
-- Three people died in flash flooding or swift water on roads in Duplin County, North Carolina
-- Two people died in a storm-related fire in Cumberland County, North Carolina
-- A mother and a child were killed when a tree fell on their house in Wilmington, North Carolina
-- Two people died from carbon monoxide poisoning in Horry County, South Carolina.
-- A woman in South Carolina died after striking a downed tree while she was driving.
-- A woman suffered cardiac arrest in Hampstead, in North Carolina's Pender County. When emergency responders tried to reach her their path was blocked by fallen trees.
-- Another person died in Pender County, according to the county's emergency management director. No details were immediately available.
-- A man was killed while checking on his dogs in Lenoir County, North Carolina.
-- Another man in Lenoir County was electrocuted while trying to connect two extension cords.
-- An 81-year-old man fell and struck his head while packing to evacuate in Wayne County, North Carolina.
Where Florence's remnants will go next
What's left of Florence is dragging itself north, dumping heavy rain Monday as it moves into the southern Appalachian Mountains.
On Monday morning, Tropical Depression Florence was centered about 125 miles west southwest of Roanoke, Virginia, the National Weather Service said. It was moving north at 13 mph, whipping 30 mph winds.
Mountainous parts of southern Virginia are now at risk for flooding, mudslides and landslides due to Florence's heavy rains on Monday, said Guy, the meteorologist.
The storm is expected to move north through the Charlottesville, Virginia, area before heading toward the Ohio Valley, hitting West Virginia and western Pennsylvania.
By Tuesday, Guy said, "the remnants of Florence will be pushed towards the Northeast where areas from Northern Pennsylvania through central New York towards Boston could pick up some heavy rain."