Millennials: Lost In the Struggle, Or Leading It?
Nicole Gray | 4/12/2019, 8:02 a.m.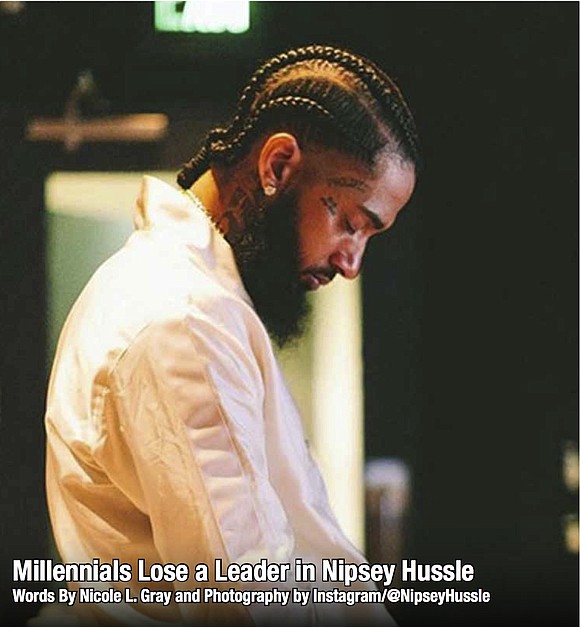 To be clear: Millennials get 'it' more than they are given credit for. Like generations before them, millennials have been labeled everything from entitled to lazy, with elders remarking that millennials don't want to work or otherwise do what it takes to succeed. But, I write this as a challenge to those of us on the outside looking in, to think back to the thoughts our elders had of our generation and us. Think of how radical our ideas and methods seemed to them as we attempted to take the value of our lessons learned and translate those into next steps to meet the new challenges. Remember what they said? Remember how they reacted?
I raise these questions and challenges, now particularly, because black millennials have recently lost a leader in Nipsey Hussle, the Grammy-nominated rap artist who was recently killed outside of his clothing store in South Central Los Angeles, California. Hussle disseminated a message, through his life and music, of community revitalization and activism; entrepreneurship; investment; ownership; overall health and wellness; and generational wealth. His message was one of betterment, for the generation, the community, and, in turn, the nation. For many, the message resonated with them because it conveyed their sentiment, for others, it gave them hope for the future. As we reflect on our past struggles and pushes for change, we must recognize that millennials, in their own right, have become moguls, social change agents, and political activists in a time of what seems to most as total chaos. So, maybe they do get it.
Millennials have grown up in the digital age and have learned to leverage the global marketplace that is at their fingertips. They have grown up in an age where they can create, brand, market, and run successful businesses from their smart devices, from just about anywhere, even turning themselves into moguls. To the extreme, you have Mark Zuckerberg, the most famous millennial who is responsible for the beloved and/or begrudged Facebook. Becoming the world's youngest self-made billionaire in 2007, at only 23, Zuckerberg has been amongst the world's most wealthy and influential for over a decade according to lists published by Forbes and Times magazine. With his amassed fortune, he has donated millions of dollars to various charities, causes and start-up companies and inspired others to launch their ideas and begin to rise among the world's power players as well. Zuckerberg is an instance of the extreme, however, but in this day's age more of the norm than the exception. The generation has a strong entrepreneurial spirit. In and of themselves, millennials all over this country are branding themselves and their crafts and not only making money but also giving back to their communities.

Millennials are using their social media savvy and international reach to be social change agents. They are changing the communities they live in, the nation and even the world with their abilities to organize and otherwise draw attention to issues that matter to them. Some are bypassing the organization and the establishment, taking matters into their own hands and just getting things done. Black Lives Matter, for instance, started as an online campaign launched by three young black women following the acquittal of George Zimmerman for the shooting death of Trayvon Matter in 2013. Since, it has become an international organization, arranging and staging demonstrations, across the globe, against the rising number of deaths of black men by police in America and even entering the political arena, rallying against the Trump campaign. Beyond organizing, others are stepping up with their funds to address social issues. Take, Will and Jada Pinkett-Smith's son, Jaden Smith. With the government still sitting on its hands, Smith's water company, Just Water, teamed up with a local church in Flint, Michigan along with other organizations to provide a mobile filtration system, which will remove lead and other poisons from the water. Hussle, another great example, took his entrepreneurial spirit to begin building the infrastructure of his community of South Central LA. An act that was so desperately needed and one that would give youth an alternative to the gang life he had been affiliated with. For one, Hussle co-owned a shopping plaza where he launched many business and philanthropic efforts to better his community. He committed to hiring the disenfranchised, provided a co-working space and launched a science technology engineering and mathematics (STEM) initiative for youth of color, amongst other things. In fact, Hussle's community impact was so great that it will go down in U.S. history as Congress-member Karen Bass has vowed to read his contributions into the Congressional Record. So, millennials are being the change they want to see. They are not asking permission to act; they are doing it, both socially and politically.