Macy's Prom Trends 2019
4/19/2019, 10:12 a.m.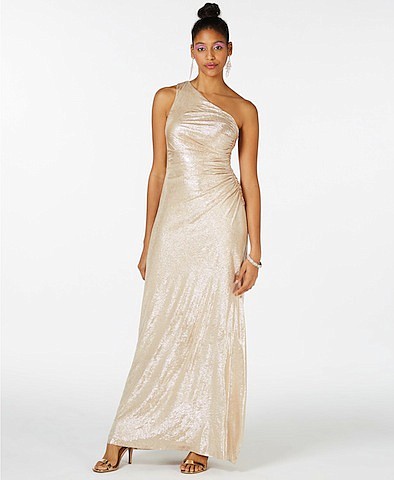 By Marisol Vecchini, Macy's Personal Stylist at Macy's Houston Galleria
Finding the perfect dress or suit for such an important event can be stressful for shoppers and their parents, but it doesn't have to be! With Macy's Personal Stylist services, prom goers and their parents are able to set up a free consultation with a Macy's style expert to help find that perfect look and all of the accessories to go with it, including jewelry, hair clips, shoes, handbags, and cosmetics. Our Personal Stylists will curate an extensive selection for customers' personal style so they're able to find exactly what's needed, with a little extra support. Appointments can be scheduled during regular store hours, seven days a week, depending on availability. Currently, we have Personal Stylists in many Houston-area locations, including Marisol Vecchini at Macy's Houston Galleria. She shares her below thoughts on this season's prom trends.
Houston Style Magazine: What is new for prom season 2019?
Marisol Vecchini: Glitter and sequins are in full force at Macy's this season, adding some glam to any look. Illusion dresses are also here to make a statement – these designs let girls show a little skin but still give off a sophisticated and glamorous vibe. The ball gown is a popular style we see year after year.
HSM: What is the hot color or colors this season?
MV:Favorite colors we're seeing include coastal cool blue; metals like rose gold, gold and ivory; and different hues of pink from pastels to fuchsia.
HSM: It seems a lot of girls are in love with two-piece dresses. Are you seeing that as a trend? If not, what trends are you viewing?
MV:Two piece dresses are certainly a new trend this year, however, we're noticing customers gravitating more to the illusion and ball gown style dresses.
HSM: Is there any particular dresses that you are personally crushing on this year?
MV: My go to dress would be "fit and flair" – it's a style that works with all body type and is available in so many rich fabrics.
HSM: When shopping for prom dresses, what should girls bring with them?
MV: They should make sure to bring a pair of heels and a variety of undergarments that will help them visualize the final look. Also, come with an open mind and be willing to try on all kinds of styles – you never know what might surprise you!
HSM: What is a good budget to have for a prom dress?
MV: The average budget for a prom dress would be anywhere from $125 to $250, but Macy's offers styles for any budget or price point.
HS: What advice would you give girls shopping for prom?
MV: It's always great to come in with an idea of what you want, but it's also important to be open-minded and willing to explore a different look. Sometimes customers become frustrated if they're not able to find the style they have in mind and will discard other options that look incredible on them.
HSM: We have been talking a lot about dresses and what girls will wear. Can a guy find his perfect prom look at Macy's? If so, what do you suggest?
MV: Yes, absolutely! Macy's is the menswear destination with sharp prom looks for the season from some of the hottest designers, including Ralph Lauren, Calvin Klein and Macy's exclusive brand, Ryan Seacrest. The guys are able to look sleek in suiting that's tailored to them.