Train a Child, Reach a Parent, Represent Well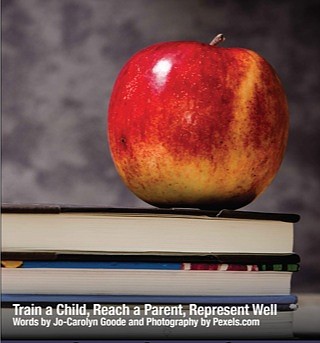 Proverbs 22:6 states, "Train up a child in the way he should go, and when he is old he will not depart from it." Either today's generations missed a lesson or two or never learned it all but the lesson of knowing how to represent yourself well publically has been lost. Gone are the rules for wearing what is right. It is all about being comfortable, sexy, convenience and wearing whatever one feels like regardless of the place or occasion. One Houston principal has had enough of the low bar some people have for themselves and is making sure that not only the students but their parents as well have standards, high standards.
Carlotta Outley Brown is the new principal at James Madison High School. The award-winning principal is known for making headlines for her stellar leadership in making children successful in the classroom involving staff, parents, and the community. Now, Brown is expanding her lessons to include parents in learning a little decorum with a new dress code for all parents and visitors to the campus.
"We are preparing our children for the future and it begins here," Brown stated.
Growing up those types of lessons began at home. Three generations taught and showed me the ways to be a lady, the value of respecting one's self and representing not just yourself but your entire family. First, it was my great grandmother, Corine Wright or as I called her CoCo, who always made sure every hair was in place and every crease was sharp before she stepped out. She wore her Sunday's best every day of the week. Then there was my grandmother, Lillie Mae Maddox, who even in her uniform had her face fully made up, wig in place, and her jewelry on. When the weekend came she pulled out the real threads. This lady of grace even ironed her undergarments. And lastly, there was my mother, Beverly Jean Maddox, with her biweekly hair appointments and flowy wardrobe. I watched her daily wake early to apply makeup and secure her signature style. Although she instilled me the lesson of not going out of the house any kind of way, I just could not adopt the application of daily makeup. I would rather sleep. (remember how I mentioned convenience earlier) I can remember each one of them saying, "When you leave this house you are representing me and we represent well." These are the ladies of generations that never would be caught wearing something too short, too tight, too revealing, to anything that wasn't appropriate for outside the home.
Over the years the mindset of dressing appropriately has become more and more relaxed. No longer are we dressing up on Sundays in our finest. Jeans and tennis shoes have become commonplace. When an event calls for business attire, folks show up wearing business casual. Before you think it is because they can't financially afford business attire, a lot of times it is because they don't know what business attire is or what it looks like. The difference between formal and cocktail are terms used interchangeably. This mindset has dripped down to our schools where some teachers are more casual in their attire opting for casual attire like jeans instead of business casual and business attire. And some parents show up to the school wearing Daisy Dukes and mid-drifts with headscarves or slagging pants exposing their boxes with an undershirt. Blame it on the influence of social culture, environment, lifestyle changes, and other factors but a big change has occurred. And it is hurting us as a society.