Train a Child, Reach a Parent, Represent Well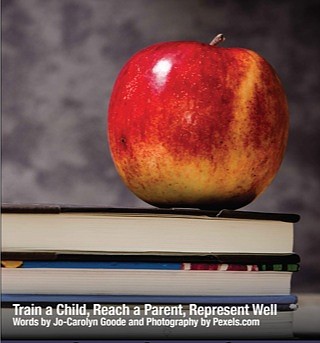 Because our value and pride in ourselves have diminished we have become lazier and expect less of our children and a little bit of ourselves. We are losing the values of what comes with representing well like self-respect, working hard, and taking risks to succeed. Instead, we are shortchanging ourselves and looking for the easy way to achieve. Our children begin to idolize the Kim Kardashians of the world more than they look to the Michelle Obamas of our time.
Brown has never wanted that mindset for her children. She works daily teaching them the lessons they need to excel professionally and personally. Values that when you look good, you feel good, and you do well. You expect more for and of yourself. You push yourself harder to achieve more and the results are that you do get more. But these lessons can't just be taught at school but in the home as well.
In a letter to parents, Brown stated, "to prepare our children and let them know daily, the appropriate attire they are supposed to wear when entering a building, going somewhere, applying for a job, or visiting someone outside the home setting" she was going to issue certain guidelines on attire for parents and visitors to the campus. Guests will be turned away from Madison if they come wearing a bonnet, pajamas, revealing tops, jeans torn from the buttocks, sagging pants, Daisy Dukes, dresses up the behind, among other items on the list. Violators of the new dress code will not be permitted inside school buildings until properly attired and can be forcefully removed if need be. Brown's Madison High was recently in the news for turning away a parent trying to enroll her child in school wearing a t-shirt dress and a scarf on her head and for having that same parent removed when she refused to leave the campus. The parent demanded to see the policy on the parent dress code. She, however, was not shown the policy and called the media.
Like this parent, others have voiced their displeasure with the rules for parents' attire calling it insulting and demeaning. But there are more supporters than naysayers. Many parents, school staff, and community members applaud Brown for her bold leadership to bring this measure to the school. Some have even called for this to be a policy that is spread district-wide.
Shaketha Mikel, a mother of three as well as a school administrator (not associated with Madison High School), is in support of a policy like the one Brown has presented. "As an educator, I set the tone and expectations for what I'd like to see in the school setting. As a parent, I model for my children how the school and community view us in society. I am the best example for my children. They are reflections of what their father and I pour into them."
Another parent (not associated with Madison High School) expresses similar favor for the policy. She does have concerns when it comes to the legality and censorship of the rules on people's rights. "Some people don't like locs and braids…can we say folks can't wear those styles either? Censorship can become a slippery subjective slope," said Camellia McKinney.