Houston universities team up to boost minorities in academia
NSF grant to Rice, UH, Texas Southern will help future science, engineering professors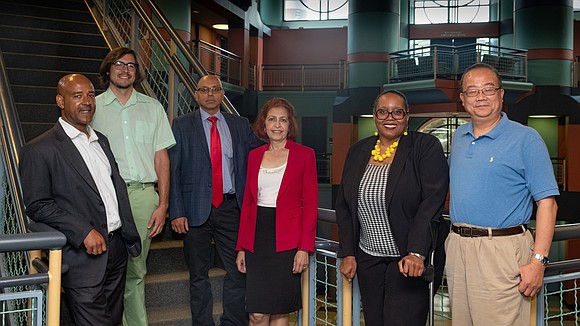 "What's most exciting is that our efforts will extend far beyond scholar development," said Yvette Pearson, associate dean for accreditation, assessment and strategic initiatives at the Brown School and co-investigator with Rifai, Li, Sharma and Rice postdoctoral researcher Canek Phillips. "Will we equip scholars with the tools they'll need to succeed in academia? Absolutely! Beyond that, our primary focus is learning about systemic barriers that impede their success and developing, implementing, studying and propagating solutions to overcome those barriers."
Pearson said the project will create opportunities for researchers to engage with each other across campuses, provide existing faculty with guidance on mentoring inclusive research teams and hold quarterly training programs to prepare future faculty members to lead research teams and centers and to further the impacts of their research through entrepreneurship.
"We are also going to provide future faculty members with affinity mentors who can advise them about their careers and also about life," Rifai said. "Because there's more to life than just the career, and we want them to have all the support they need to succeed."
A major component of the project is a research investigation to identify factors that help and hinder underrepresented minorities as they apply for faculty positions.
"Research conducted by the Kapor Center shows tech companies' hiring practices are biased towards candidates from 'top-ranking universities' and against 'candidates with ethnic-sounding names,'" Pearson said. "We believe this holds true for many STEM faculty hires as well. We will investigate this along with other systemic barriers and inequities. Ultimately, we want to see the results of our research put into practice to help remove those barriers."
The project will work in tandem with another AGEP grant to Rice, Georgia Tech, Florida Agricultural and Mechanical University and the University of Colorado focused on advancing underrepresented minority postdoctoral researchers into faculty positions.
"We have a sizeable team of committed people at our institutions and at others nationwide who are working to make this project a success," Pearson said. "Some get the sense that diversity, equity and inclusion are the responsibility of certain subsets of people.
"And that is not true," she said. "It's all of our responsibility. I want this to become business as usual, and this AGEP award will enable us to make great strides in that direction."