H-E-B's Quest for Texas Best Dishes Out $80,000 and Shelf Placement for a Texas-Sized Win
Five Texas food companies claim prize money and winning titles in sixth annual competition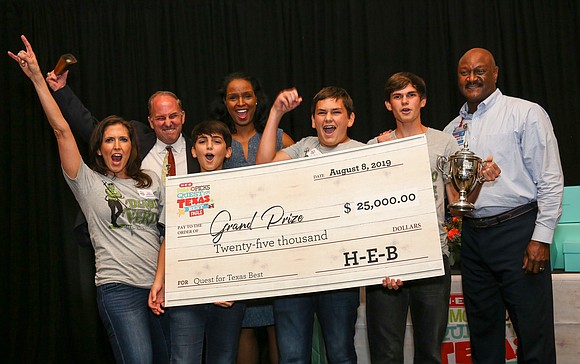 After two days of intense deliberations and tasting a delicious mix of brats, brittle, sauces, and pickles, mixes, mixers, meats, cookies and crickets, H-E-B's Primo Picks Quest for Texas Best names FIVE winners at the Houston Food Bank. The winners of the sixth annual event hail from Houston, Austin, San Antonio, Woodway and Atlanta, TX and received a combined $80,000 in cash prizes and coveted space on H-E-B store shelves statewide.
"Each of these 20 competitors displayed unprecedented creativity, style and commitment to providing outstanding, unique products for our consideration. In fact, the entries were so good that we ended up with FIVE winners this year. We are delighted to share that diversity and ingenuity with our customers across the state," said James Harris, Director, Diversity & Inclusion and Supplier Diversity, H-E-B.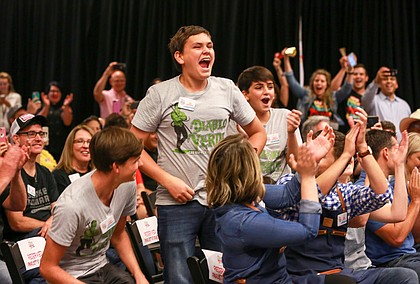 The 2019 H-E-B Primo Picks Quest for Texas Best Winners are:
Grand Prize Winner ($25,000, featured placement as a Texas Best Primo Pick):
3 Sons Foods, LLC, Diablo Verde Sauce – Houston, TX
3 Sons Foods is a family-owned company operated by sixth and seventh generation Texans, Traci Johannson and her three sons, George (11), Luke (14) and Ayden (16). The mother-son company produces and sells a devilishly addictive creamy cilantro sauce.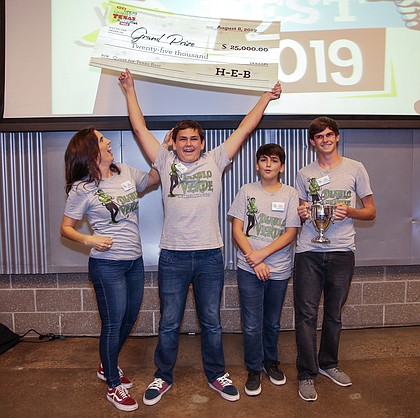 First Place Winner ($20,000):
Uncle Ray's Peanut Brittle, Peanut Brittle – Austin, TX
Courtney Ray Goodson's Great Uncle Ray perfected his peanut brittle over the span of 35 years. It was his secret to charming just about everyone west of the Mississippi, creating community with every bite.

Second Place Winner ($15,000):
EVOKE, Collagen Drink – Woodway, TX
Fruit of Life's story began seven years ago and 1,769 miles away with a dream to create a company capable of producing healthy drinks from coconuts using the entire fruit. Founder, Derrick Newball, bottled raw coconut water; handcrafted coconut milk soaps from the coconut pulp; and composted the coconut shells to create fertilizer for his coconut farm. But he knew there was more.
TWO Third Place Winners ($10,000 each):
To the Moon Family Foods, Nutty-Carrot Spread – Atlanta, TX
To the Moon Family Foods' Original Nutty-Carrot Spread is the newest crowd-pleaser from this northeast Texas town. Made with carrots, pecans and mouthwatering spices, its unique flavor matches its addictive appeal.
Grain4Grain, Low-Carb Flour and Mix – San Antonio, TX
Grain4Grain was founded by Yoni Medhin and Matt Mechtly with a goal of enabling people to live healthier lives while improving the environment and giving back. They do this through recycling spent grains from local microbreweries to make a low carb, high protein, high fiber flour.
The judges included: Cory Basso, Group Vice President of Advertising; Juan Alonso, Regional Vice President Houston Division, South Region and Mi Tienda; Justin Tippet, Director of Human Resources SA/West Division; Chef Charlotte Samuel, H-E-B Culinary Nutritionist & Product Development Chef; Tanji Patton, Good Taste TV Executive Producer; Greg Morago, Houston Chronicle Food Writer; and Winell Herron, H-E-B Group Vice-President of Public Affairs, Diversity and Environmental Affairs.
The 2019 Quest for Texas Best competition drew more than 800 entries from nearly 140 cities and towns across the state after a call for entries in February of this year. Through two qualifying rounds, submissions were judged on taste and flavor, customer appeal, value, uniqueness, market potential and differentiation from current products at most H-E-B stores.
H-E-B Quest for Texas Best is a signature program for H-E-B's Primo Picks brand, which labels the best-in-store products that are all unique, delicious, and new. Since its inception in 2014, Quest for Texas Best has yielded nearly 500 new products on H-E-B's grocery, bakery, deli and market shelves across the state.
As part of H-E-B's commitment to providing local product options, H-E-B is the single largest retailer of the GO Texan program with more than 1,000 of its own brand items that include the GO TEXAN watermark in stores throughout the state.