Most Stylish Houstonians of 2019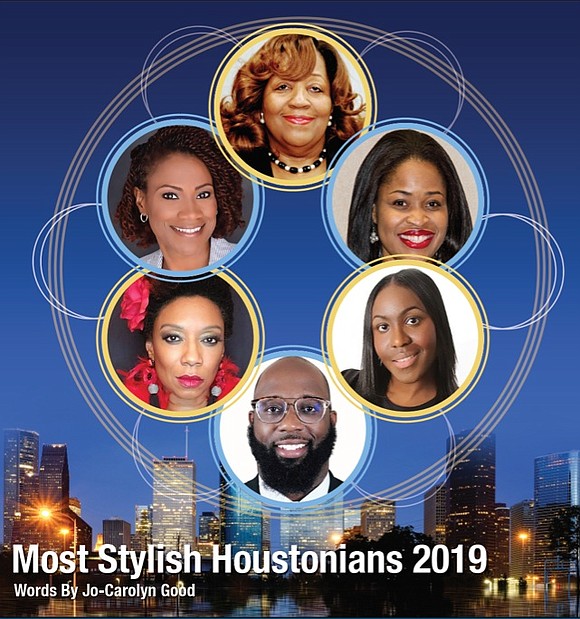 Shar-day Campbell
If her name sounds familiar, there is a reason for that. Shar-day Campbell is a vital part of The Honey Brown Hope Foundation, a 501c3 nonprofit founded by her mother, Tammie Lang Campbell. With her mother, Campbell has helped to transforms communities through the advancement of civil rights advocacy, diversity appreciation, and environmental stewardship. Several elected officials, national communications organizations, YMCA of Houston and HESP Union, have recognized her work and dedication to service. Professionally, she works at Houston Community College creating content that helps demystify the financial aid process for students. The highly sought after presenter organizes signature initiatives like #HoustonMoneyMoves Scholarship Contest and #FinancialAidFridays social media series that have helped her earn the HCC Chancellor's Excellence, Houston Money Week Innovation and Telly Awards. She further helps college students afford and complete college as a #RealCollege Affiliate with the Hope Center for College, Community, and Justice led by Dr. Sara Goldrick-Rab. Through education, innovation, and collective action, the #RealCollege movement seeks to change the landscape of higher education so that all students can afford and complete their studies. Campbell is an award-winning communicator and certified social media expert whose gift for storytelling led her to a career in communications, television and public affairs.
Tiffannie Jones
Tiffannie Jones started out just wanting to send her cousins and few co-workers' children to college on a good foot. She created a care package full of snacks, school supplies, and other necessities. That good deed sparked the founding of The Just College Students Project in 2014 that went from helping five students to 3,000 to date. JCS has a mission of providing the needs for students as they transition from high school to college making a difference, one college student at a time. Jones hosts annual events such as A Different World Scholarship Breakfast featuring actress Charnele Brown and Back2School College Drive. Every year at least ten college students are given scholarships from the profits of the scholarship breakfast. Representatives of JCS with Jones also go on an annual campus tour to colleges in Texas, Louisiana, and Mississippi dropping off free college care packages along the way. JCS has student ambassadors at various campuses that help execute the mission of JCS. As the years go by the college care packages get larger and larger due to the generous donations from sponsors. The single mother of two also gets her children in setting college students up for their future by having them pass out care packages on campuses. She has received numerous awards for her work including the Whataburger Hometown Hero. Jones, who never attended college herself, feels like providing for students is her responsibility.
Jalene Mack
Jalene Mack is an entertainment attorney, actress, producer, playwright, author, wife, and mother. However to those who have dreams of careers in entertainment she is a future maker. The next star from Houston may have Jalene Mack to thank for their rise to stardom. Mack is using her passion for the entertainment industry to develop the talents of future actors, writers, and producers. She is nurturing their talent just like her's was In 2011, she started Mack Performing Arts Collective, Inc. Through the 501© nonprofit Mack hosts workshops on acting, writing, and producing with those from the industry with celebrity instructors like Joey Wells, Kim Fields, Faizon Love, Chris Spencer, Roland Martin, Kym Whitley, Sherri Shepherd, Golden Brooks, Malik Yoba, Wendy Raquel Robinson, Gary Owen, and Guy Torry. Furthermore, she is able to provide scholarships to high school interested in careers in entertainment. Beyond bringing Hollywood to Houston, Mack is also lending her expertise to TAVA Cares, Inc. as Executive Director. TAVA provides financial assistance and resources to women diagnosed with breast cancer, caregivers, and family members. Mack's philanthropic efforts have a legacy effect that will be played out through future generations. She has a plethora of awards for her work including the President Barack Lifetime Achievement Award.