Sears returns to court with its future in the balance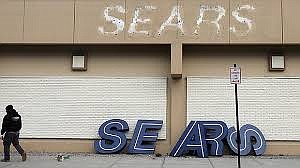 While Judge Drain has expressed a desire to save the company and the workers' jobs, the final decision will ride on returning as much money as possible to those who are owed money from Sears. The committee of major creditors are owed more than $3 billion. They have argued repeatedly they don't believe it makes sense to try to save Sears. They called the plan to stay in business "nothing more than wishful thinking " and "an unjustified and foolhardy gamble with other people's money," in one of their filings.
Lampert's filings have been similarly dismissive of the creditors' positions, calling them "self-serving bombast" that would hurt other parties due to a "difficult to fathom set of narrow interests."
What do Sears' employees want?
Watching anxiously from the sidelines are Sears' 45,000 employees. A group of past and current Sears employees sent a letter to Drain on Tuesday asking that he accept Lampert's bid. But they want the judge to prevent Lampert from holding both the chairman and CEO title of the new company, as he did in the years leading up to the bankruptcy.
"We are stuck between a rock and hard place as neither option offers us a secure future," said the letter about the choice between Lampert's control and closing the company. "We want Sears Holdings to succeed, not be a pawn in Lampert's game. The reality, as we know from our lived experience, is that Lampert has been putting the company through the longest liquidation in retail history. If he regains control of Sears, he will merely continue that slow burn."
What are Sears' prospects for survival?
Sears filed for bankruptcy on October 15. The company hoped to stay in business, but many retailers that have filed for bankruptcy with similar plans, such as Toys "R" Us, have been forced out of business by their creditors.
Then, even if Sears emerges from bankruptcy, it might not survive long-term. Recent history is marked by chains that closed for good after second bankruptcies -- Gymboree and RadioShack, for example.
Lampert says he believes a smaller Sears, limited to its most profitable stores and free of unaffordable levels of debt, can be a competitive and profitable retailer long term. He is seeking to buy Sears through his hedge fund, offering $5.2 billion for Sears' assets. But he is putting up a relatively limited amount of additional cash, only $1.4 billion, most of which comes from new loans that the reborn Sears would borrow against in future earnings. His biggest contribution to the deal is an offer to forgive about $1.3 billion of the roughly $2.4 billion he is owed by Sears.
Creditors argue the court should not allow that debt to be used in the deal, saying the loans Lampert's hedge fund made to Sears were not in the company's best interest and were also a conflict of interest since he was in control of the company at the time. Lampert has argued the loans were completely proper and done in an effort to keep a struggling Sears afloat in recent years.