The top nine reasons to visit Houston in 2019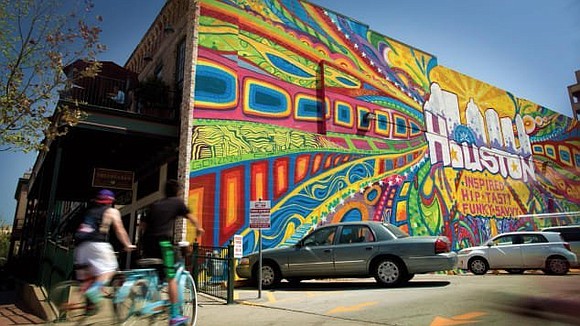 On July 20, the day of the actual moon landing, the center will be open for extended hours and have a packed schedule of events during the day and throughout the evening.
While details are still being worked out, various venues in the city are also hosting events for Space City Month, according to Leah Shah, a representative from Visit Houston. A few restaurants and bars are expected to offer space-themed cocktails and food menus.
The arts
Menil Drawing Institute
Part of The Menil Collection, a 30-acre microneighborhood of art within the Montrose neighborhood, Menil Drawing Institute opened in November to much fanfare and has since gotten international acclaim from art world critics and heavy hitters.
It claims to be the world's first freestanding building dedicated to modern and contemporary drawings, and according to spokesman Tommy Napier, was built for their acquisition, study, exhibition, conservation and storage.
The 30,000-square-foot institute hosts rotating drawing exhibitions, which change every three to four months. Its second exhibition opens February 15 and is dedicated to drawings by Roni Horn, a renowned visual artist who resides and works in New York and Iceland.
Also, the building is as notable as the art inside: Designed by Los Angeles-based architect Johnston Marklee, it's constructed of white steel and is covered in some parts by cypress trees, giving it an outdoorsy feel. Built around three courtyards lined with lush magnolia and oak trees, it's not a bad place to while away a couple of hours.
The Menil Collection itself is comprised of a main building with special exhibitions and a diverse permanent collection that includes works by Matisse and Picasso and three other museum buildings: one dedicated to the artist Cy Twombly, another to the artist Dan Flavin and the third to year-long installation works.
Museum of Fine Arts Houston
At a sprawling 14 acres, this museum is the largest cultural institution in the Southwest. Thanks to a $450 million expansion, which will be completed sometime in 2020, it's going to get even bigger and will include a 164,000-square-foot building for modern and contemporary art.
But travelers don't need to wait for this project to be finished to make a visit because there's already plenty of renowned art to see.
The museum's collection of more than 70,000 objects comes from all world cultures, dating from antiquity to present. It includes notable American art such as Georgia O'Keefe paintings, European paintings including works by Rembrandt and Goya, Pre-Columbian and African gold, photography, prints and drawings, 20th- and 21st-century paintings and sculptures and Latin American art. General admission is $17.
Holocaust Museum Houston
The nation's fourth largest Holocaust Museum will more than double in size from, 21,000 to 57,000 square feet, when it reopens on June 22, following a nearly $50 million expansion. It's going to be the country's first fully bilingual English and Spanish Holocaust museum and will grow from one to four permanent galleries.
In addition to its already existing Bearing Witness Holocaust gallery, which is full of artifacts from before, during and after the Holocaust (a 1942 railcar that transported Jewish people to concentration camps in Germany is a highlight), a new human rights gallery will have displays of all UN-recognized genocides.