Kamala Harris Issues Call to Action Against Trump in New Memoir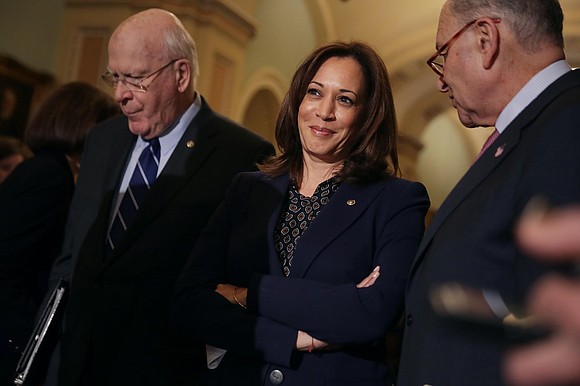 For many years in California, Harris recoiled from questions about her personal life, which helped establish her image as a disciplined and cautious politician. Her first book, "Smart on Crime," reflected that private veneer with its narrow focus on policy, drawing from her experience prosecuting crimes that ranged from child sexual assault to homicide in Alameda County and San Francisco.
In the new book, Harris delves far more deeply into her upbringing by a single mother who was determined to see that she and her sister Maya "would grow into confident, proud black women." A mother, Harris writes, who taught them to be tough and rarely offered praise for "behavior or achievements that were expected."
Harris stitches together touchstones from her childhood -- like her mother's pride in finally saving enough money to buy a home when Harris was in high school -- with stories about her work as California's attorney general pursuing predatory lenders and holding out for a larger settlement from the big banks after the foreclosure crisis.
Noting her self-doubt during that period as California held out for what ultimately became a $20 billion settlement, Harris recalled a tart message from then-Gov. Jerry Brown -- "I hope you know what you're doing" -- as well as a tense meeting with top officials at the big banks who "seemed to be under the misimpression that I could be bullied into submission," she writes.
In one dramatic moment, she describes how she engaged in a shouting match with Jamie Dimon, the chairman and CEO of JPMorgan Chase.
"I was tired of feeling caged, of talking through lawyers and other intermediaries in endless obfuscation," Harris writes of her decision to call Dimon directly. "I took off my earrings (the Oakland in me) and picked up the receiver."
" 'You're trying to steal from my shareholders!' he yelled, almost as soon as he heard my voice. I gave it right back," Harris writes.
" 'Your shareholders? Your shareholders? My shareholders are the homeowners of California! You come and see them. Talk to them about who got robbed.' It stayed at that level for a while. We were like dogs in a fight. A member of my senior team later recalled thinking, 'This was either a really good or a colossally bad idea.' " (The settlement was reached two weeks later).
In a series of stories, Harris explains how the people she met as a prosecutor, and later as attorney general, steered her agenda in the Senate toward criminal justice revisions, legal protections for immigrants, boosting wages for the middle class and advocating for universal health care and for lowering the cost of prescription drugs.
She notes a career high point in performing gay weddings in California after the Supreme Court struck down Proposition 8, the 2008 California ballot measure that prohibited marriages for same-sex couples. (Like Brown, who served as attorney general before her, Harris refused to defend Proposition 8 in the courts).
Walking out of the Supreme Court after watching oral arguments in the case, Harris notes that day underscored her rationale for becoming a lawyer: "It was in the courtroom, I believed, that you could translate that passion into action and precedent and law."