The GO DJs Bring their Annual Star-Studded Red Carpet & Awards Show Back For It's 5-Year Anniversary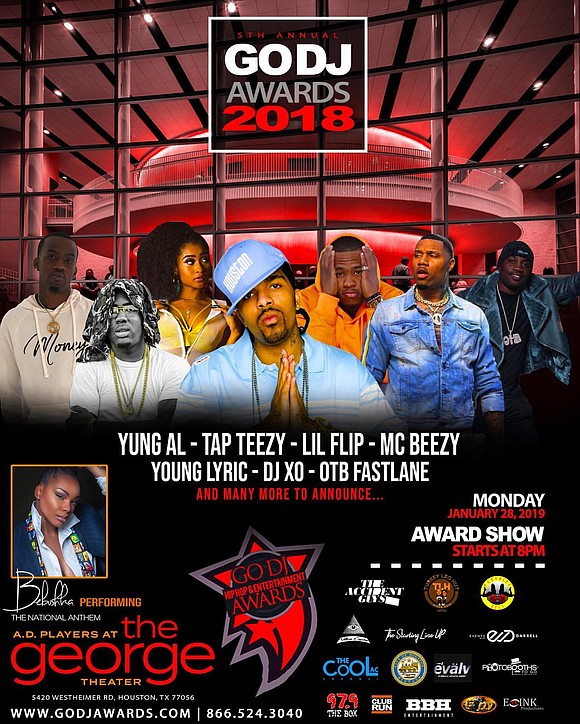 "I started this out in 2014 as a platform, and to give the city something fun to do. Now, in year V, I've realized that it has become so much more. Not just to the city of Houston, but to me as well. I want nothing more than to continuously raise the level of expectation and standard for the GO DJ AWARDS. I believe that the GO DJ AWARDS will continue to grow and include talents outside of Houston and Texas, similar to the platform that the MTV MUSIC AWARDS and BET AWARDS now have. Houston and the south are known to set trends in music. I do not anticipate the GO DJ AWARDS being any different as an influential force to reckon with in the Awards show sector of Events and Entertainment. GDA V WILL BE LIVE!"
Craig "GO DJ HiC" Williams, CEO, I AM A GO DJ MUSIC GROUP, LLC.
There will be appearances and performances by Lil' Flip, MC Beezy, Yung Al, Tap Teezy, DJ XO and many more. The National Anthem will be sung by Singer/Songwriter Bebushka.
This year's sponsors include: Turkey Leg Hut, 1501 Certified Entertainment, BIG BANK HANK, Shortstop Phodeos, Paradise City, Law Office of Jermaine Hayden with Accident Guys
For more information on The GO DJ Awards please visit: www.godjawards.com