Just 33 years old, Sean McVay has the attention of Bill Belichick -- and the rest of the NFL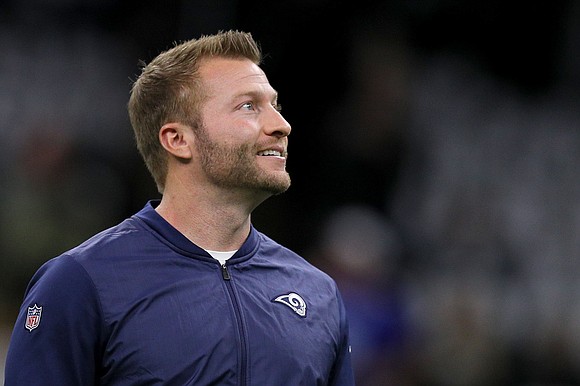 In his two years at the helm, the Rams have reached the playoffs twice. Now, he's heading back to Atlanta for Super Bowl LIII against Belichick and the Patriots.
"Yeah, it means I've got a lot more people bothering me about tickets," McVay said last week with a laugh. "No, it -- Atlanta, specifically where I went to high school at Marist, that place has been great to me. So many influential coaches that really pour into you. They teach you about how to be a man, how to handle -- whether it be success or some adversity -- and that's what's real.
"Some of my closest friends in life are guys that I was able to play high school football with," he said. "So, there's ... people that will be able to be at that game that are very important to me, but this is about the Rams going and playing in the Super Bowl.
"It is unique that it's in Atlanta, but we're going there to try to win a football game and then there will be some people that are very special to me and my family that'll get a chance to not have to travel too far to be there as well."
Coincidentally, the one Super Bowl that McVay attended as a 14-year-old fan was Super Bowl XXXIV in 2000, when the Rams last won and when he lived in Atlanta. The tickets were a birthday present from the elder McVay, who was still working in the NFL at the time.
Nineteen years later, the grandfather will be watching the grandson.
"He'll be at the game," McVay said. "What he's meant to me and to our family and just the way that he's handled himself and the perspective that he has -- he's seen it from both ends of the spectrum. He's been a coach. He's also had an intricate role from a front office standpoint, and he's been a part of a championship organization that was able to sustain for a long period of time."
McVay: Belichick texted him throughout the season
McVay says his grandfather is a great reference for him. But there's also Belichick. Before the Rams came calling, McVay first met Belichick and Patriots offensive coordinator Josh McDaniels.
"We practiced against those guys when I was in Washington early on and kind of kept in contact with them," McVay said. "They're a team that you're always watching the way they do things, and you just have so much respect for the way that they've operated over the last handful of years."
According to NBC's Peter King, McVay says Belichick has texted him after games.
"I've gotten to know Bill -- we talked at the combine last year -- so that's been cool," McVay told King. "He was really great in the conversation we had, really enlightening.
"This is wild: This season, he has basically texted me after every one of our games. After we beat Minnesota in September, he texted, 'Man, you guys are really explosive and impressive and fun to watch. Congratulations -- keep it rolling.' For him to even take the time to say congrats, it's pretty cool. That's one of the things I like about our business, our fraternity of coaches. As competitive as it is, guys find time to share when they can. I'm still young, still figuring it out. That stuff's been really helpful to me."
While Belichick hasn't really elaborated on his relationship with McVay, he did have glowing things to say last week about the Rams' head coach, who is half of his age.
"I have a ton of respect for Sean," Belichick said. "I think he's done a great job in the two years he's been with the Rams. His teams have performed at an extremely high level. They're very consistent. They're well-coached. He has a great scheme. The players execute it on a consistent basis at a very high level.
"He's got a great coaching staff. Offense, defense, special teams -- they're good in every area. ... I think he's done an outstanding job. I have a ton of respect for the way his team has played and how well they play and what he's accomplished out there, and in his entire career, but as a head coach in the last two years."