Mariel Hemingway and Amy Smart Discuss "The Earthing Movie"
We live in a time when mobile technology and Wi-Fi, Nikes and Christian Louboutins, video games, and a fast-paced urban lifestyle are often prized above the simpler things in life. But what if making a beeline back to our earthy origins could be the answer to more happiness and balance; and better health and vitality?
According to studies conducted on the benefits of making direct contact with the earth through the bottoms of our bare feet, a practice called "Earthing," our bodies become grounded, similarly to the way we ground cable wires before installing them in our homes. Grounding our bodies by walking barefoot directly on the earth's natural surface (sidewalks, backyard decks and asphalt don't count) has been shown to improve mood and sleep patterns, clear free radicals from the body, infuse us with antioxidants and reduce overall inflammation. Earthing helps prevent free radicals from attacking and damaging our bodies' healthy tissues, thereby helping us to heal.
In 2005, electrical engineer and electrostatic discharge expert Roger Applewhite published a study in the journal, European Biology and Bioelectromagnetics, that confirmed a significant fact: when the body is grounded, electrons move from earth into the body and vice versa. "This effect is sufficient to maintain the body at the same negative-charge electrical potential as the earth." In other words, for our bodies to thrive at their greatest potential, they require a direct connection with the earth on a daily basis.
After having an opportunity to screen a documentary film titled, The Earthing Movie, directed and produced by Sundance Award-Winning filmmakers Josh and Rebecca Tickell, I began my own "earthing" journey. Though I am still a newbie at this practice, I now carve out time to walk or stand barefoot on grass, soil or sand (any natural earth surface) at least once a day for fifteen minutes or longer to ground my body. I plant my feet firmly on the earth's surface as if it is my own personal charging station, and it feels amazing!
I recently had the opportunity to sit down with actresses Mariel Hemingway and Amy Smart about their decision to take part in The Earthing Movie, and to learn more about their journeys with the daily practice of earthing, and the positive impact it has had on both of their lives.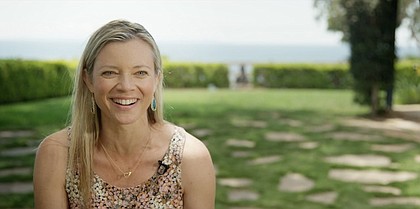 Allison Kugel: What were the circumstances in each of your lives when you first heard about the practice of earthing?
Mariel Hemingway: I'd been [earthing] for a long time, not realizing I was doing it. Ten years ago, I met my life partner, Bobby, and he was always taking his shoes off when we were hiking. We eventually wrote a book together, called Running with Nature (Changing Lives Press). When I think about my history, I can remember times that I was anxious, and when I would go outside and take my shoes off near a river or on a trail, I was actually earthing and grounding myself. I just didn't know what I was doing at the time. Once upon a time, kids were barefoot all the time. That was how we grew up in the seventies. Nobody wore shoes where I come from (Hemingway was raised in Idaho).