Mariel Hemingway and Amy Smart Discuss "The Earthing Movie"
Allison Kugel: I liken earthing to plugging your cell phone into its charger. The earth's surface is our natural charging station. The man who discovered the scientific health benefits of grounding our bodies through the practice of earthing, his name is Clint Ober.
Mariel Hemingway: An amazing man!
Amy Smart: Clint recommends earthing for at least fifteen minutes a day, I believe, according to the studies that were done for treating inflammation. But even a few minutes a day is better than nothing.
Allison Kugel: It's remarkable to me that Clint originally discovered that humans needed grounding by being a cable television wire installer and learning how to ground wires.
Mariel Hemingway: We are made up of electricity. That's why when you're a little kid and you rub yourself on the carpet and then you touch your friend, you can shock them. We have three thousand pores under our feet, and we absorb the energy, or the electricity, from the earth. The frequency of the earth goes into our body and those electrons are released. Now, when you wear rubber soled shoes and you're not ever getting grounded, there is no way for those electrons that build up in the body to release themselves. There is supposed to be a constant flow of energy. When you can release the buildup of electrons, then your body releases the inflammation. Inflammation is a result of the body not being able to release all those different frequencies; all that electricity.
Amy Smart: And, like with anything, it's an accumulation over time. Because we are electrical beings, we really respond to any kind of electrical stimulus. And because the frequency of the earth is exactly where our bodies need to be, it makes complete sense, putting our bare feet on the earth and letting that magnetic field restructure our body the way it's supposed to be lined up.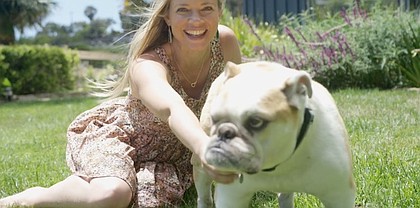 Allison Kugel: One thing in the film I found so interesting was that the rise in popularity of rubber soled shoes keeps us from properly grounding ourselves on the earth. Here I am walking around in my sneakers all day, thinking it's great for my feet and posture, which in some ways it is, but not for grounding my body.
Mariel Hemingway: In the film, Clint Ober talks about the fact that prior to P.F. Flyers (an early rubber soled sneaker, made popular in the 1960s), we were probably like animals and grounded most of the time. We either had leather soled shoes or moccasins. When we didn't have rubber at the bottom of our feet we were connected. In our current technical and very modern world, it's why sometimes being able to use a grounding mat to help eliminate some electric and magnetic fields is necessary. There are ways to kind of trick yourself into being in a natural state when you can't be literally connected to nature.
Amy Smart: The invention of synthetic rubber and plastics in shoes have taken us away from just being on the earth, sleeping on the earth, and using the earth to heal our bodies. One hundred years ago we'd have been in much more contact with the earth on a daily basis. Even going back to the soil we had before and all this fertilization and industrialization has depleted it; I equate that to our bodies becoming depleted because we've lost our connection with the magnetic field and the energy of the earth.