Weighing In On the Healthcare Debate: Hot Button Issue of 2020 Election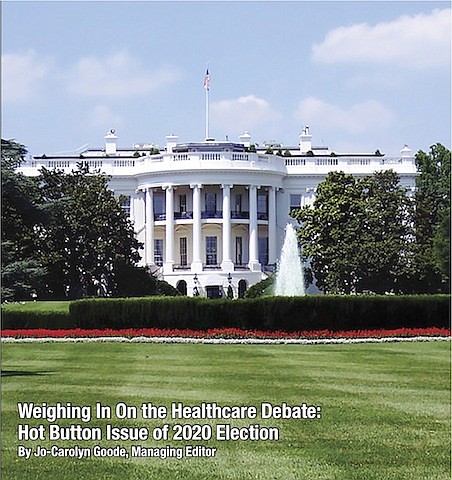 Despite the good in brought, some political minds were just burning at that thought that is was Democratic legislation. And it became the goal of Republicans to repeal and replace it as soon as they got in power. That time has come.
This week the man in the White House struck the biggest blow to health care by saying that the entire legislation should be struck down after citing with a federal Texas judge ruling that invalidated Obama health care legislation. Per his usual stance on almost everything goes against what he previously during his presidential campaign run to not touch federal health care programs. Doing away with this law would affect millions of Americans' current health coverage.
This shocking move has shaken political leaders on both sides of the aisle. Republican Sen. Susan Collins expressed her disappointment and opposition to reporters about the announcement. "If the administration is opposed to the ACA, and clearly there are provisions of the law that do need to be fixed, the answer is for the administration to work ... with Congress and present a plan to replace and fix the law. Not to, through the courts, seek to invalidate it altogether."
While House Speaker Nancy Pelosi is motivating the Democrats to get ready for battle to defend and protect Obamacare in a released statement, she said, "On the very first day that the Democratic Majority held the gavel, the House of Representatives voted to intervene against Republicans' monstrous health care lawsuit to defend people with pre-existing conditions and the health care of all Americans. While the Trump Administration broadens its monstrous ambitions from destroying protections for pre-existing conditions to tearing down every last benefit and protection the Affordable Care Act provides, Democrats are fiercely defending the law of the land and protecting all Americans' health care."
And all of this comes just after Pelosi said she was willing to work with Rep. Pramila Jayapal introduction of Medicare for All bill, H.R 1384, last month. In that bill, Rep. Jayapal said to stop putting health care over profit. It is a single payer proposal that allows states to create Medicaid buy-ins giving Americans more choice in their healthcare with lower costs and possibly better quality of care. It focuses on how Americans pay far higher costs for medical coverage than other countries. But, of course, it is not perfect as well.
However, with Donald Trump's stance to support the Department of Justice and federal ruling what is the plan to take care of America health wise? Well, he doesn't really have one. "The Party of Healthcare" won't have plans or anything in place if the Affordable Care Act starts is deemed unconstitutional.
Health care once again will be a hot button issue of the presidential campaigns of 2020. In the last presidential election, Senator Bernie Sanders was in the Democratic in the forefront speaking the loudest. Today, presidential hopefuls all have the opinion about the issue.
Kamala Harris has already voiced her opinion via Twitter. "We must fight back again with everything we've got. And in 2020, we need to elect a president who will make health care a right." She previously supported Senator Bernie Sanders' Medicare for All bill in 2017 saying, "health care should be a right." In particular, she favors eliminating private health insurance. "The idea is that everyone gets access to medical care, and you don't have to go through the process of going through an insurance company, having them give you approval, going through the paperwork, all of the delay that may require," Harris said in a town hall in Iowa on CNN. She favors for the public to have more options.