Lindsey Vonn's Incredible Climb and View from the Top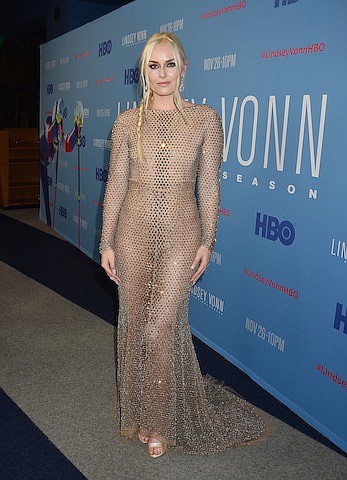 Allison Kugel: Do you have the clarity and perspective to, rather than zeroing in on that one win-record you didn't break due to your injury, to sit back and see the entire picture of your successful career?
Lindsey Vonn: It's difficult to think about that record (her dogs, including Lucy, who shares the screen with Vonn in her documentary, interrupts)…
Allison Kugel: By the way, how cute is your dog Lucy in this film? I love how she keeps you company during some lonely moments, and how she keeps your morale up. It was so sweet to watch.
Lindsey Vonn: They're the best. Especially during my surgeries, they're always there for me and they always want me, no matter what. They [all] made me feel so much better. I honestly don't know how I would have gotten through all the surgeries and all those lonely days at home with my leg up, and in pain, without them. I'll get back to your other question. I lost my train of thought (laughs)…
Allison Kugel: Totally my fault! (Laughs) I just had to tell you that Lucy stole the show in every scene she's in, in your documentary. How could I not bring that up?
Lindsay Vonn: It was so funny… at the premiere, every time Lucy was on the screen everyone was cheering and laughing. I put her in a human baby onesie for the world championships and everyone was hysterically laughing at that moment in the film, during the premiere. It made me so happy, because she is the star of the show!
Allison Kugel: Cutest thing ever! Okay, back to the other topic. I know from experience that perfectionists always zero in on the things that didn't go perfectly rather than the big picture…
Lindsey Vonn: Big picture, I'm proud of everything I've accomplished, but it's taken me a moment to get there. I've always been so goal oriented. Throughout the course of my entire career, I would set the goal and I met it. This one was the only goal I hadn't met (breaking Ingemar Stenmark's record). I think for all the goals I've set, to not accomplish one is totally fine. I am a perfectionist, so I always want to be perfect, and you can't be. No one is, and like I said in my documentary, "Who actually gets a fairytale ending?" Very few people, and in the end, I did something I didn't think I could do, which is getting a bronze medal in the World Championships with no ligaments, basically. That ending was more than I could have asked for given the situation.
Allison Kugel: In this Instagram, picture-perfect world that young girls are exposed to, do you see yourself as a role model?
Lindsey Vonn: It's what I have always strived for with my foundation (The Lindsey Vonn Foundation), to show girls that they have to believe in themselves. Social media [images], bullies and people online, that's not real. It's all about how you view yourself and how much you believe in yourself. There have been so many people in my life that have said that I wasn't going to make it, and that I wasn't good enough. I never believed them; I believed in myself. It's always what I've been trying to get across to young girls and young kids. This film is a great platform for that message to have a much louder voice.