Adoption: Expand Your Family This Holiday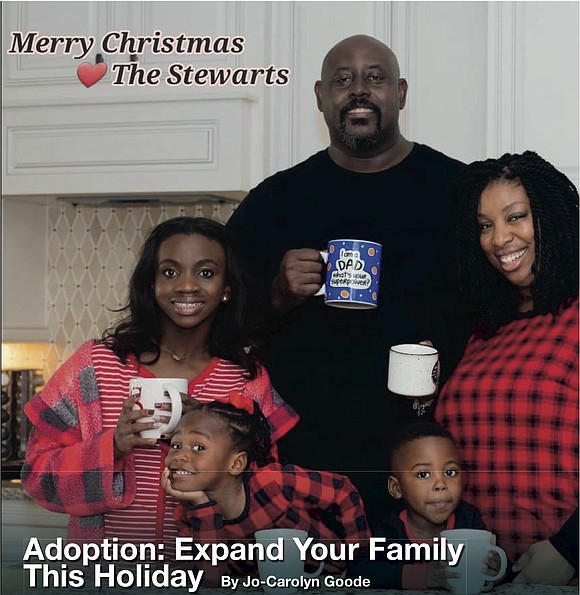 Initially, the Stewarts were looking to adopt older children since they knew that they had a more difficult time being adopted, especially with siblings. But God had other plans. "We ended up being placed with a newborn baby girl and a year and some months later were blessed with her newborn brother." Stewart continued, "We surrendered to God's plan and were open to whoever He chose to be our children regardless of race, age or gender."
Going from a household of three to five was an adjustment. However, it was made easier by the love and support from their community. Family, friends, and neighbors opened their hearts and flooded Stewart's home with donations of crib, clothes, toys, meals, and support. Stewart said they were blown away by the way others showed up for them. "No matter the age, when family dynamics change, there is an adjustment period and it is important to be open to accepting support from family, friends, church members, co-workers, and neighbors!" That support made it a lot easier and less stressful for the family to bond as a unit.
Stewart advises others considering adoption to do their homework first and pray a lot. Educating yourself on the adoption process, especially in your state, will help to make the process a little smoother. Make sure to look at U.S. vs. international adoptions. Ask yourself questions. Are you more suited for an older child or a baby? Do you have the time needed to devote to a child? Are your finances in order to support this new life in your care? A strong support system is essential according to Stewart. "No matter the age or circumstance, a child being removed from their birth family impacts the child in ways that can and can't be seen. Adoptive families can be part of the healing process, but they are responsible for being aware that their child has been impacted even if they received them directly from the hospital," commented Stewart.
Beyond that Stewart advises, "Be open to loving a child you don't share blood and DNA with just as you would if you did. Be in 100% agreement about entering the process with your spouse, if married. Understand that there will be unknowns and be flexible throughout the process."
It takes more than DNA to be a parent. It takes a lot of love. You must show up for games and school performances. Staying up all night long when they go to a party is a requirement. Praying every day that when they leave your care that you will be able tucked them in and kiss them goodnight.
If you are ready, there are children waiting to call you mom or dad. Choose to expand your family this holiday by opening your arms and homes to adopt a child and give them the gift of a new life.