Hyatt Regency Tamaya Resort & Spa: A Luxurious Getaway With a Hint of Adventure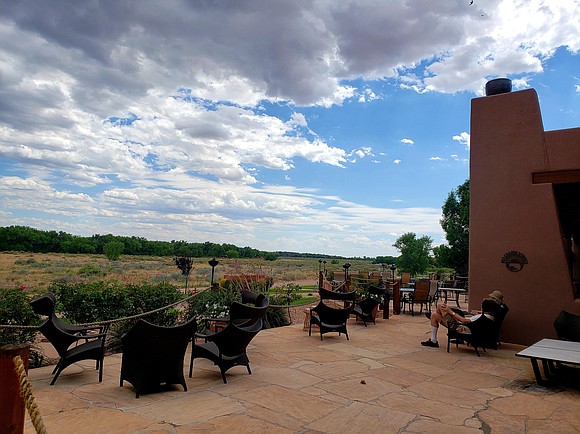 Time to strap on those boots and giddy-up! Tamaya Resort and Spa offers horseback riding. So of course, this city slicker took on the opportunity to ride off into the sunset to bring the cows home. Ok, I really didn't round up the herd but hey, a girl can still pretend, right? Since this was my first time ever on a horse (please don't judge this Texas girl), I must admit that I was more than a bit nervous but the good people from the Stables at Tamaya made sure I got the right horse just for me. Our group horse ride took us through a peaceful, scenic ride through the Pueblo backcountry. About 30 minutes into our journey, it was just like a movie; the thunder began rumbling in the distance and the clouds began to darken and encompass us from each and every angle. In my head, there he was - Garth Brooks singing "The Thunder Rolls" (lol). Then all of a sudden, lightning. Our horses started to get a little rattled but our trail guides rode directly by our sides directing us and making sure our horses were ok. The guide leader in charge made the call to head back before the rain drenched us. And the right call he made. My only regret is not having a camera crew with me. This would have been the perfect opportunity to make a mini movie - "City Slickers Part 3" – starring me of course!
After freshening up for the evening, sunset cocktails and shareable plates at the Rio Grande Lounge, offering both indoor and outdoor seating, was just what I needed. If you're into everything spicy like me, then I recommend the Green Chile Margarita paired with the Crispy Green Chile Strips. For all the vegetarians, there are several menu options that are guaranteed to satisfy your taste buds.
Note: On certain nights, this vibrant gathering spot offers live music entertainment.
The stars shine brightly during the Tamaya nights. This makes for a perfect backdrop for an evening stroll or perhaps sitting by the campfire where you'll more than likely stumble across s'mores by the pit or even Native American Story Telling Under the Stars.
Personally, I just sat there by the fire staring at the stars in the sky letting all my woes escape me. Doing the things I don't get to do in the city are what makes travel so amazing for me, especially one where I get to connect with nature and just unwind.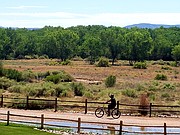 The following morning, I headed off for a leisurely walk on one of the nature trails on the property and from there I went to my lesson in adobe brick making. Too bad I didn't have my very own Patrick Swayze to have my Ghost pottery making moment! But seriously, it felt good to get my hands dirty while learning about the native culture. Once your brick is completed, and after a full day of drying in the sun, the staff will have it available for you at the front desk. If you want to fly back home with it – take it in your carry on and tell TSA that it's pottery (insert smiley face). If brick making isn't your thing, the resort offers an array of Srai Wi (our children) Cultural Activities, which are led by a tribal member.