Vote: It Is Up to All of Us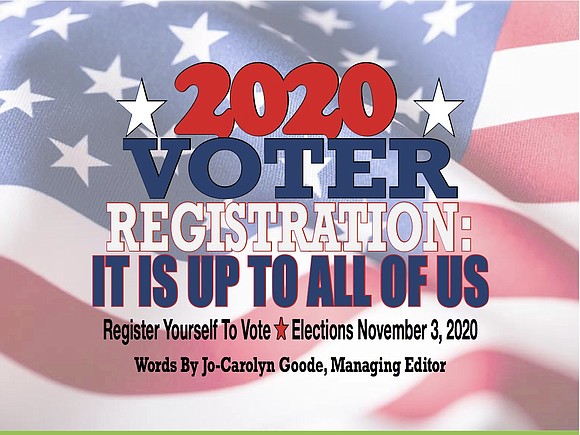 Good thing about this current time is that you still have time to make your voice heard in this election. As of this week, we are approximately 40 days away from October 5th (the deadline to register to vote), 43 days away from October 13 (the start of early voting), and 69 days from November 3rd (Election Day).
How to Register to Vote
Check to make sure you are eligible:
*Be a U.S. citizen
*Be a resident of the county where you submit the application
*Be at least 17 years and 10 months old, and you are 18 years of age on Election Day.
*Don't be a convicted felon (you may be eligible to vote if you have
completed your sentence, probation, and parole)
*Do not have been declared by a court exercising probate jurisdiction to be either totally mentally incapacitated or partially
mentally incapacitated without the right to vote.
Apply to Vote:
*Fill out a voter registration application online at https://webservices.sos.state.tx.us/vrapp/index.asp. Print it, sign it, and mail it to the voter registrar in your county of residence.
*Register in person at your county Voter Registrar's office.
*Register by mail by obtaining an application from your county Voter Registrar's office or pick up applications at libraries, government offices, or high schools.
Check Your Voting Status
www.teamrv-mvp.sos.texas.gov/ MVP/mvp.do
Show Up to Vote
Whether early voting or voting on Election Day make sure to have proper identification.
Acceptable forms of ID:
*Texas Driver License
*Texas Election ID Certificate
*Texas Handgun License
*U.S. Citizenship Certificate with Photo
*U.S. Military ID Card with Photo
*Texas Personal ID Card
*U. S. Passport
Find out more information online at VoteTexas.Gov or call 1-800-252-8683.
Application for Ballot By Mail
www.webservices.sos.state.tx.us/ forms/5-15f.pdf
www.sos.state.tx.us/elections/ voter/important-election-dates. shtml#2020
www.HarrisVotes.com www.NationalVoterRegistrationDay.org
Voting is not a party issue. Voting is not a race issue. Voting is an American issue. Every voice is important. Voting is not just up to one person but it is up to all of us.