T-Boz On TLC's Legacy, Touring with Chilli and Beating the Odds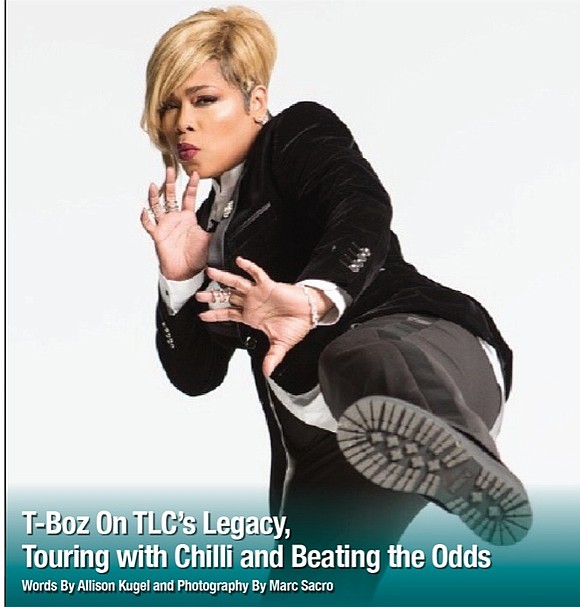 Tionne "T-Boz" Watkins: I think that's when people saw me as a woman, but then that started making me feel like I was a woman, you know what I mean? And when you start seeing yourself as that, you start acting a little differently, like, "Oh, I got some grown and sexy going on now (laughs)." I used to be so skinny and I would wear two pair of pants to look curvier. I was tired of guys saying, "She's cute." I was like, when are they going to say, "She's fine," and when am I going to get some grown woman hips?

Allison Kugel: Do you talk to Lisa "Left Eye" Lopes when you're alone? And has there ever been an unmistakable sign that she's around you?
Tionne "T-Boz" Watkins: No, I don't want to talk to anybody who's passed away, because that's spooky (laugh).
Allison Kugel: That stuff doesn't spook me out. I think it's kind of cool to think we can communicate back and forth with those who have passed.
Tionne "T-Boz" Watkins: I don't talk to anyone that passed away in my family. But I think about them, or I talk about them. That's my way. I'm one of those people where I don't even like to go to grave sights because that's not a good memory for me, and I don't feel like they know I'm there. But I also feel like they know the love I have for them, and I always have psychics come up to me and tell me that Lisa is with me.
Allison Kugel: Do they say something specific enough where you know they're for real? Because you guys are famous, do they give you something to let you know it's the real deal?
Tionne "T-Boz" Watkins: Yeah, absolutely, I know it's the real deal. They tell me that she watches over my kids, but the stuff they've told me, there is no way they would know it! Only me and Lisa would know that stuff. At first it creeped me out a little bit, because I was like, "Wait a minute. Does that mean she's watching me all the time?" Then I got used to it, and it's not a bad thing because she's watching over us.
Allison Kugel: I'm sure she's not watching you in the shower and that kind of thing, but who knows (laugh).
Tionne "T-Boz" Watkins: I hope not, but it's not like we haven't seen each other naked before. We were like family, so we did everything together.

Allison Kugel: Were you happy with the way TLC's final album (the group's fifth and final album, titled "TLC" was released in 2017) turned out? Do you feel it was a good swan song?
Tionne "T-Boz" Watkins: No, I don't. I feel like it wasn't worked good enough. I don't even like the song Haters; I'm going to be honest. I think that was a terrible choice as our second single. I believe there were better songs we should've gone with, that were deeper. We have a song called American Gold. It was right before Trump came into office and there was all this uproar with black men who were dying and being abused and killed by the cops, including my cousin who was murdered by cops and shot 18 times with an AR15, and he was mentally ill. The reason that song is so important is because we hit on all of that, and you know how you bleed and die for your American gold? Just being American is tough these days, especially when you're black. That song would have really hit home in a lot of places, kind of the way Waterfalls did, if the right visuals had been put to it.