Kobe Bryant, fiery NBA superstar and future Hall of Famer, is dead at 41
CNN. com | 1/26/2020, 7:21 p.m.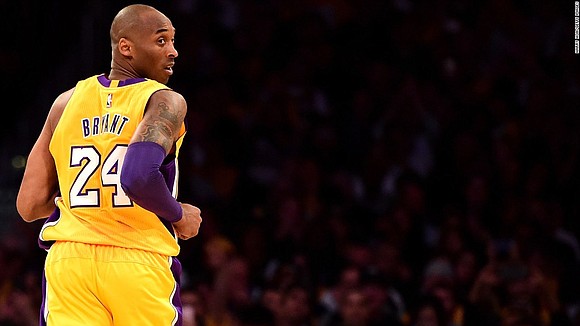 "When I was growing up in Italy, I've obviously witnessed it firsthand going to certain soccer matches and things of that nature," Bryant told CNN's Andy Scholes. "My parents have taught me and educated me on how to deal with those sorts of things."
Bryant played high school basketball at Lower Merion in Pennsylvania.
"This is a difficult day for everyone in our school community," said Amy Buckman, a spokeswoman for Lower Merion School District.
"Mr. Bryant's connection to Lower Merion High School, where he played basketball prior to joining the NBA, has raised the profile of our high school and our district throughout the world. Our school community will always be grateful for his ongoing generosity to his alma mater, including his dedication of our Kobe Bryant gymnasium and his support of our girls and boys basketball teams."
Bryant went straight from high school to the NBA, drafted by the Charlotte Hornets with the 13th overall pick of the 1996 draft, making him the youngest NBA player in history at age 17. Bryant was then traded to the Los Angeles Lakers for veteran center Vlade Divac.
He soon became one of the most decorated players in NBA history and also won two Olympic gold medals for USA men's basketball, in 2008 and 2012.
Off the court his dazzling smile sold everything from Nike shoes to McDonald's hamburgers.
There was controversy, however, when Bryant was accused of sexual assaulting a 19-year-old Colorado hotel worker in 2003. Bryant insisted the encounter was consensual. The criminal sexual assault charge was dropped in 2004, and the accuser agreed to settle her civil lawsuit against Bryant in 2005.
LeBron James: 'Kobe is a legend, that's for damn sure'
At 6 feet, 6 inches, Bryant could run the point or play shooting guard, even though his position was small forward.
One of the most memorable games in NBA history came on January 22, 2006, when Bryant scored 81 points in a Lakers' 122-104 win over Toronto. Only Wilt Chamberlain's 100-point game in 1962 tops this performance.
And in his final game of his career in 2016, the Black Mamba did it his way, dropping 60 points -- on 50 shots -- in a Lakers win against the Utah Jazz at a frenzied Staples Center in Los Angeles.
Bryant finished his NBA career with 33,643 points. A day before he died, he was passed by another Laker and superstar, LeBron James, on the league's all-time scoring list. James accomplished the feat in -- of all places -- Philadelphia, against the 76ers.
Bryant took to Twitter after James passed him, writing, "Continuing to move the game forward @KingJames. Much respect my brother."
James, who had "Mamba 4 Life" and "8/24 KB" in gold marker on his sneakers before Saturday's game, talked after the game about Bryant's influence on him.
"The story is just too much," James said Saturday night. "It doesn't make sense. ... Now I'm here in a Lakers uniform, in Philadelphia, where he's from... it's surreal."