Mamba Out
NBA Icon Kobe Bryant and eight other passengers pass away in early morning helicopter crash in California.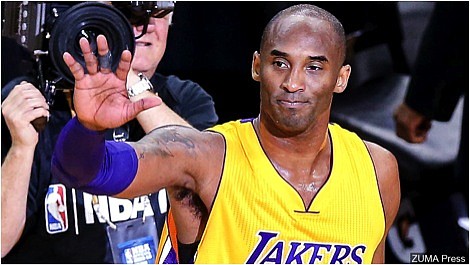 Not only was Kobe too young to leave this earth at 41 years of age, but his wife Vanessa and other three daughters, Natalia, Bianca, and Capri didn't deserve to lose a husband and father. They also have to deal with the fact that Gigi, who had a bright future in basketball will no longer be around to be the big sister and her mom's first child.
So many knew him as the "Black Mamba" on the court, so it was no surprise when celebrities, athletes both past and present, politicians, etc. begin to flood the social media airwaves. Here are just a few out of the thousands of comments that have been posted online:
"Kobe was a legend on the court and just getting started in what would have been just as meaningful a second act. To lose Gianna is even more heartbreaking to us as parents. Michelle and I send love and prayers to Vanessa and the entire Bryant family on an unthinkable day." ~ President Barack Obama
"Kobe and I shared so many special conversations about life and basketball. We had so much in common off the court. I used to love talking to him about Lakers basketball, being fathers and husbands and how much we loved Italy. I will miss those conversations and him so much." ~ Laker Legend Earvin "Magic" Johnson
"There's no words to express the pain I'm going through with this tragedy of losing my niece Gigi and my brother Kobe. I love you and you will be missed. My condolences goes out to the Bryant family and the families of the other passengers on board. IM SICK RIGHT NOW!" ~Shaquille O'Neal posted on his Twitter page.
I have to agree with Shaq on this one. It's difficult to write this article about a man who dominated on the court and was having a very successful life away from it. He loved coaching his daughter and her teammates. Kobe was also becoming a prominent voice for women's basketball and the equality they deserved as basketball players.
My heartfelt condolences go out to the family members of the other passengers who lost their lives as well. I know that Kobe's name will be the only one mentioned over and over again due to his mega-superstar status, but those other individuals were the stars of their families as well and their lives meant just as much as his their own household. Remember their names as well.
In his final NBA game with the Los Angeles Lakers Kobe Bryant scored 60 points in a victory against the Utah Jazz, 101-96. Before he left the court one last time in front of all the Laker faithful who had piled into the Staple Center to send their favorite player off into retirement, Kobe left them with a phrase that would later turn into a mantra for all of those who strived to be like him.
"Mamba out."