Black Fathers: The Heavy Weight On Their Minds
Navigating those same difficulties is Mahcoe Mikel, father of three daughters (Brooklyn 10, Irelynd 7, and Scotlynd 4), who doesn't take the role of father lightly. "Being a father now, means navigating through uncertainties, and adapting to sudden changes. All while possessing the resilience to recover quickly and stay the course when you are unsure where it leads. Along the way, you may suffer unimaginable losses, and you may even want to give up and go back the other way. Nonetheless, being a father in times of trauma means that you will learn to depend on your family just as much as they depend on you," he said.
Children depend on their fathers. Research has proven that children who have the influence of a father are more likely to avoid the negative pitfalls of life and become successful. Loving every aspect of his daughters being allows them to be led to Godly possibilities according to Mikel.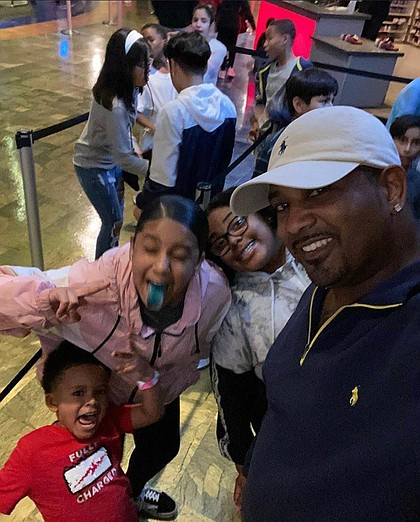 Father of three, (Olivia 14, Gabrielle 12, and Gavin 5) Ron Ryans, echoes that sentiment by saying the role of a father is to prepare children by having those tough, realistic conversations so they are ready for anything. Once they are prepared for life, Scott knows for children to really soar they need to know about money and how to invest and grow it. Investing into the college future of his young leaders and teaching them how to manage money and invest in the stock market are tops on his parenting list.


Children today face an obscene amount of challenges on a daily. An advocate for them is needed and required. Black fathers don't always have the answers but they do the best that can. Sometimes giving their best while trying to fill the roles of both a father and a mother, a strain that Ryans feels with his children. Even though he co-parents with his children's mother situations come up where two are better than one but only one is available.
No matter the situations Black fathers have accepted fatherhood and all it brings. Every day they strive just to make a difference in the life of their children. Each morning they awake wanting their children to have a better life than they had.
"Hard work pays off one way or another. When you put in the time and work, one might not see it right then but eventually someone will notice and it will not be forgotten," said Ryans.
"I raised them all the same with the same principles. Hard work and prayer pays off," said Scott, who instills the lesson of knowing the difference between children's wants and needs.

Providing their children's needs and their wants fills any father with pride. The greatest joy to their children is the lasting legacy that they will leave that lives with them far beyond their years.
Mikel hopes to leave an impression on his girls so they can do more and go further. "One aspect of legacy that I strive to leave them is a world of possibilities to pray big and dream big; to live responsibly and share the blessings along the way."