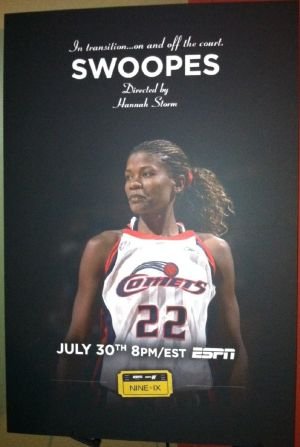 The Swoopes "Nine for IX" documentary airs Tuesday, July 30th at 7:30 CST on ESPN.

Stories this photo appears in:

Sheryl Swoopes was the first woman ever signed to play in the WNBA, the first female in the league to get a major shoe contract and now she makes history once again! This four-time WNBA champion of the Houston Comets becomes the first WNBA player to have her intriguing story chronicled as a part of ESPN's commemoration of the groundbreaking "Nine for IX" documentary. The city of Houston, where Swoopes' historic WNBA run began, recently was the scene for the documentary's private screening at the historic River Oaks Theater with a pre-reception at nearby Brassiere 19.

When ESPN airs it's next documentary from the series "Nine for IX", former Houston Comets star Sheryl Swoopes will be telling her story. ESPN anchor and former Houston broadcaster Hannah Storm is the director. Swoopes and Storm were in town last week for the film's premier at the River Oaks Theater. It is certainly a film worth watching, especially if you were a Comets' fan, a fan of women's basketball or if you just like good stories.