Stroud Stays Cool As He Leads Comeback Victory Over Tampa Bay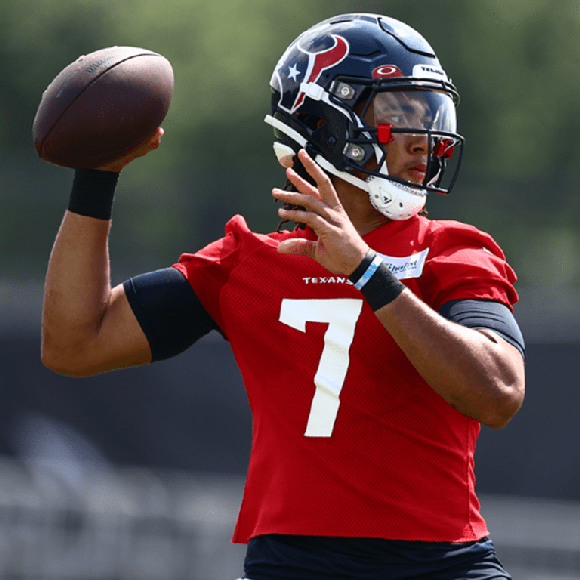 Less than a minute in life may seem like a short time to complete any task, but in the NFL, that amount of time feels like an eternity. At least, that's how it felt for Houston Texans rookie quarterback C.J. Stroud, who took the field trailing the Tampa Bay Buccaneers 37-33 with just 46 seconds left in regulation. Before heading to the huddle, he had a conversation with one of his closest friends on the team, defensive end Jonathan Greenard.
"They [Tampa Bay] had just scored, leaving us with only 46 seconds," Stroud mentioned during his postgame press conference. "Jonathan Greenard was walking off the field, and he had that look. Every time I walk off the field feeling down, I recognize that look. So, I made him stop, look me in the eyes, and I told him, 'Hey, bro, I've got you.'"
"They've done that for me when my head was down. They'd get a stop and hand us the ball, and then it was up to us to make something happen or not. This time, I wanted to let him know that, just as they're here for me, I'm here for them."
These words of support from Stroud were reciprocated, as Greenard also offered a similar encouraging message after the Texans lost their season opener to the Baltimore Ravens. Before Stroud took the podium after that game, Greenard, a four-year veteran, told Stroud, "Keep your head up because we are going to need you to be yourself as the season progresses."
As Stroud headed towards the huddle, with fans in the background screaming in anticipation of what was about to happen, one person in the stands watched and smiled, for she already knew what was unfolding. Kimberly Stroud, C.J.'s mother, has witnessed similar situations her son has been in, with his team relying on him to lead the way.
Whether in person or watching on television, she understands that C.J. has always been a leader who doesn't crack under pressure.
"When he was playing in Junior All-American football when he was younger, his nickname was 'Cool Breeze,'" Mrs. Stroud shared about her son's demeanor. "He's always cool. He might have pre-game nerves, but once the game starts, he plays with a different attitude. He's a natural-born leader."
The Texans got a glimpse of Stroud's abilities in late-game situations during a Week 5 matchup against the Atlanta Falcons. Trailing 18-12 in the fourth quarter, the former two-time Heisman Trophy Finalist orchestrated an 11-play, 75-yard drive that culminated with an 18-yard touchdown pass to tight end Dalton Shultz. Unfortunately, the defense couldn't stop the Falcons' offense as they drove down the field to kick a 37-yard field goal as time expired.
This time, Stroud wouldn't be denied the moment he was destined to have. His team needed it, but more importantly, the fans in attendance needed it to restore faith in the organization. So, as he broke the huddle, Stroud let faith take its course. Six plays and 75 yards later, he found wide receiver Tank Dell for the eventual game-winning touchdown.
"Honestly, I was just trying to stay cool, calm, and collected, one play at a time," Stroud said about his touchdown drive. "I told those boys up front, 'Y'all, give me just a little time, and I'm going to make them pay.' I know they didn't just give me a little time; they gave me a lot of time, and that helped a lot. I just told them, 'We're going to win this game. I don't know if y'all believe it or not, but I do, and if you look me in the eyes, you can tell.' We went out there and did it, and by the grace of God, now we're 4-4."
Stroud finished the game 30-of-42 for 470 passing yards and five touchdowns. His passing yards set a new NFL record for rookie passing yards, surpassing the previous record set by Marc Bulger (453) in 2002. They were also the most passing yards in franchise history through four quarters and the third-most in a game, trailing only Matt Schaub, who threw for 527 and 497 in two overtime victories.