Wayback Burgers Celebrating First Day of Summer (June 21) with Free Shake Day
v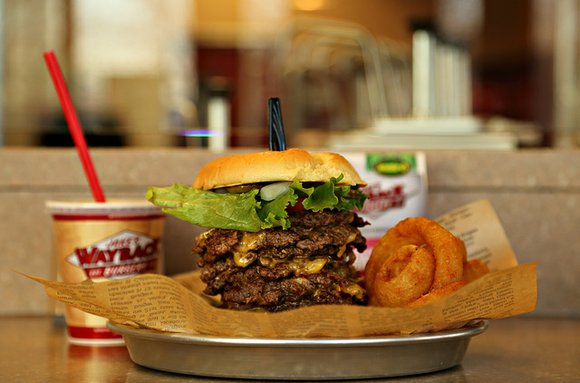 Cheshire, CT – (June 19, 2017) – Wayback Burgers, America's favorite hometown burger joint and fastest growing burger franchise, will (milk)shake things up for the first day of summer by giving away one FREE Junior Black & White Milkshake per guest at all participating locations all day on Wednesday, June 21, 2017 while supplies last.
John Eucalitto, Wayback Burgers' President, says there's no better way to kick off the summer than a creamy milkshake served the old-fashioned way.
"We're excited to continue our annual Free Shake Day tradition and treat all of our loyal guests to a milkshake served the old-fashioned way, with a side of nostalgia," says Eucalitto. "Wayback Burgers was modeled after the traditional roadside burger joint, where people gathered to enjoy great burgers, fries, and milkshakes over great conversations with friends and family. Free Shake Day brings back that feeling of quintessential Americana and helps our guests enjoy the good things in life – great food and great memories. There is no better way to celebrate summer's arrival!"
All participating Wayback Burgers locations are gearing up for Free Shake Day by loading up on supplies. 2,200 gallons of ice cream, 175 gallons of Hershey's™ chocolate syrup, 175 gallons of Monin French Vanilla syrup, and 22,000 cups, lids and straws, to be exact – 30 times the required supply for an average day of sales. This ramp up is necessary as the average location will give out more than 280 free milkshakes for Free Shake Day.
However, according to Patrick Conlin, Wayback Burgers' Senior Vice President, an expected surge in local sales makes Free Shake Day a win-win for guests and franchise owners.
"Free Shake Day is one of the biggest days of the year for our franchise because most guests want to enjoy the full Wayback Burgers experience," says Conlin. "We expect a 20-25% sales jump at all of our stores as hundreds of hungry guests purchase food to pair up with their free milkshake. Our 'Black & White Milkshake' is a fantastic treat on its own, but it's nearly impossible to resist adding your favorite burger and fries when you come to Wayback Burgers."
All Wayback Burgers' milkshakes are made the old-fashioned way by hand, using only fresh milk and hand-dipped ice cream. Its classic Black & White Milkshake is made with premium vanilla bean ice cream, fresh milk and a blend of vanilla and Hershey's™ chocolate syrup. Guests are encouraged to share their free shakes using the hashtag #FreeShakeDay on Twitter or Instagram, and leave a comment on Wayback Burgers' Facebook page.
For more information on Wayback Burgers and Free Shake Day, please visit www.WaybackBurgers.com, Facebook, Twitter or Instagram.
For more information about the Wayback Burgers franchise opportunity, https://franchise.waybackburgers.com/.