The US job market continues its cooldown, adding just 187,000 positions last month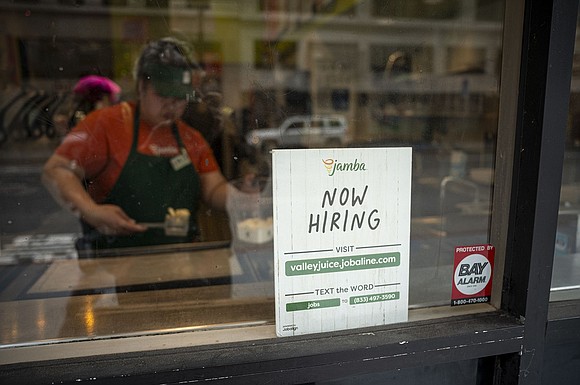 Originally Published: 04 AUG 23 07:00 ET
Updated: 04 AUG 23 12:20 ET
By Alicia Wallace, CNN
Minneapolis (CNN) — The US job market has returned to pre-pandemic form.
Employers added just 187,000 jobs in July, slightly above the monthly average seen in the decade before the pandemic, according to new data released Friday by the Bureau of Labor Statistics.
Economists were expecting a net gain of 200,000 jobs last month. June's job growth was revised down to 185,000 jobs from 209,000.
"The labor market's still resilient, there's still more job opportunities out there than there are candidates looking for work," said Amy Glaser, senior vice president at staffing firm Adecco. "It matches what we're seeing, and I think it's going to continue in this manner."
July's headline number and the downward revisions to the monthly job total for May and June (down 25,000 jobs and 24,000 jobs, respectively), are further indications that the nation's labor market is gradually cooling off. Moreover, it further fuels the notion that the Federal Reserve can achieve a "soft landing" of reining in inflation without massive layoffs.
And although the strong jobs data lands just days after the United States was downgraded by Fitch Rating for its fiscal health, Friday's report is also the latest in the line of positive economic news that either kicks recession predictions further down the road or erases them entirely.
The July unemployment rate ticked down to 3.5%, from 3.6%. During the past 16 months, the jobless rate has hovered between 3.5% and 3.7% — levels not seen in more than 50 years.
"It's kind of the Goldilocks economy," Brian Bethune, economist and professor at Boston College, told CNN. "It's not too fast, and it's not too slow, and that's precisely where you want to be."
There has to be sufficient growth to generate productivity gains, which are crucial for keeping inflation down, he said.
The Fed is in the throes of a 16-month campaign to try to curb decades-high inflation by suppressing demand. The central bank has raised its benchmark interest rate 11 times from essentially 0 to a range of 5.25% and 5.5%, a 22-year high.
Key inflation gauges have showed that price increases have cooled considerably during the past year while the US economy continues to grow.
Signs of weakening — but maybe not enough for the Fed
Industries seeing the largest job gains in July were health care, social assistance, financial activities and wholesale trade.
Gains were more muted in the leisure and hospitality industry, which has been hiring like gangbusters to back fill deep pandemic losses and keep up with consumers who have a seemingly insatiable (and understandable) demand for out-of-the-house experiences.
"There are weaker gains [in leisure and hospitality], although they remain understaffed relative to pre-Covid levels," Andrew Patterson, global chief economist with Vanguard's Investment Strategy Group, told CNN. "But that might be a sign of maybe a cooldown in discretionary spending."
Fed officials have been hoping their aggressive rate-hiking campaign would bring about a slowdown in the job market — especially in wage gains, which are viewed as a contributor to inflation.
Economists were expecting to see a slight moderation in wage gains; however, those held steady for the second-consecutive month.
Friday's report showed that average hourly earnings growth was unchanged at 0.4% from the month before and also unchanged at 4.4% year-over-year.
"The Fed's going to want to see that come down," Patterson said. "So, reason to believe that there's signs of weakening in the labor market, but the Fed still has more work to do."
Economists had projected a monthly gain of 0.3% and a 4.2% annual increase, according to Refinitiv.
Labor force participation also held steady at a 62.6% rate, according to the report.
Taking longer for people to find work
Jobs openings are plentiful (there were 9.6 million of them in June), people are getting hired, and even though there are fewer people looking for a job, they're staying longer on the unemployment rolls.
In July, the share of workers who have been out of a job for more than three and a half months jumped 3 percentage points to 36.9%, the highest level in more than a year, according to Friday's report.
Within that group, the share of unemployed people who have been looking for work for between 15 weeks and six months increased to its largest share since November 2020, BLS data shows.
The labor market remains tight by historical standards; however, finding workers and filling jobs could be heavily influenced by factors such as skills, geography, and inflation, Giacomo Santangelo, an economist with employment website Monster and a senior lecturer of economics at Fordham University, told CNN earlier this week.
Even though certain industries (like health care) need employees, that's not a simple transition for workers such as longtime truck drivers. And even though there may be jobs available in one's field in another state, that relocation isn't simple.
Inflation also plays a role, Santangelo said.
"Just because there's a job opening doesn't necessarily mean that job opening is going to be taken by an unemployed person," he said. "We could, in fact, find a fully employed person taking on additional work in order to meet the labor demands as well as catch up with inflation."
Stable and steady
For the most part, it's been steady as she goes for the US jobs market.
The labor market has hit a smooth stretch of track after being on a three-year-long rollercoaster ride full of unexpected turns. This time last year, job openings were sinking and economists were expecting that payroll gains would settle down. Instead, the July 2022 jobs report delivered a massive surprise of 568,000 positions added — more than double expectations.
There was little shock factor this time around: July's 187,000 net job gains were on par with the revised 185,000 gains in June.
"This is a remarkably unremarkable report," Rucha Vankudre, Lightcast's senior economist, said in commentary. "Everything is trending as expected, which is a good thing."
The US economy has added jobs now for 31 straight months, and its monthly job gains are settling in near the monthly average of 184,000 jobs seen in the decade before the pandemic, when the nation saw its last major economic expansion.
What's helping to drive that strong and steady growth this time has been the jobs market itself: The robust and tight labor market has kept wages growing, which in turn has helped bolster consumer spending, which had fed the demand that in turn required businesses to hire more workers.
The latest stretch of data seem to indicate that the labor market is settling into a steady state, where monthly employment gains might fluctuate in the range of 150,000 to 180,000, said Boston College's Bethune.
"Now, if we can get some stability in terms of the thinking of where the economy is going … this recession obsession, and if the Federal Reserve can see the light that there is a possibility to grow out of the inflation problem," he said, adding that could help fuel investment and stabilize the financial system.
Other economists say it might not be enough, and they expect to see a further deterioration in the labor market to help inflation come down to the Fed's 2% target.
"We believe that unemployment probably has to get somewhere around 4.5% to get the downward pressure you need on wages to achieve that 2% target," Vanguard's Patterson said.
The Fed bases its 2% target on the core Personal Consumption Expenditures index, which measured 4.1% in June, according to Commerce Department data released last week. Next week, the BLS will release two key inflation reports for July: the Consumer Price Index and the Producer Price Index.