'Winning Time' ups its game (a little) as it turns to the Lakers-Celtics rivalry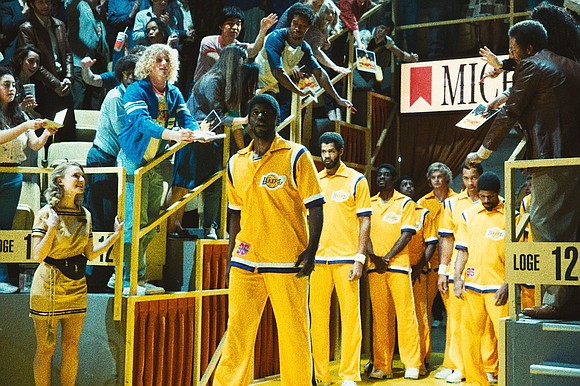 Originally Published: 04 AUG 23 08:39 ET
Review by Brian Lowry, CNN
(CNN) — Dramatizations tend to take liberties with the facts, but the issues surrounding 2022's debut season of "Winning Time: The Rise of the Lakers Dynasty" were as much about its leering tone as fudging the details. The second season doesn't fix those problems – in ways, it adds to them – but it does sharpen its focus by pivoting to the Lakers-Celtics rivalry that defined the NBA during the 1980s.
Indeed, while the thrust of the HBO series is still devoted to Magic Johnson (Quincy Isaiah) and Lakers owner Jerry Buss (John C. Reilly), the latest season – which jumps around to cover multiple years, cramming a lot of action into seven episodes – gives considerable time to Larry Bird (Sean Patrick Small, really capturing the basketball legend's trash-talking swagger) and his Boston Celtics, with whom the '80s Lakers always seemed to be on a collision course when it came to the NBA championship.
Those years also encompass well-documented tumult within the Lakers organization. The conflicts range from Magic's antagonistic relationship with Coach Paul Westhead (Jason Segel) – a mass of insecurities who needs to assert his authority – to Buss' disappointment with his grown children as he brings them into the business, frustration that erupts when he berates them for the way they approach a family game night.
For Westhead, the professional rifts extend to general manager Jerry West (Jason Clarke) – who was upset enough by his depiction in Season 1 to threaten legal action, and likely won't enjoy this round any better – and Pat Riley (Adrien Brody), whose desire to play peacemaker leaves him in an untenable position before making the most of the head coaching job when he stumbles into it.
As for Johnson, he spends much of his time off the court trying to win back his eventual wife, Cookie (Tamera Tomakili), who had split with him because of his repeated dalliances amid all the temptation that being an LA celebrity had to offer.
This chapter of "Winning Time" benefits from covering the discord unleashed when Buss awarded Johnson an unprecedented 25-year contract. The move alarms his teammates, including superstar Kareem Abdul-Jabbar (Solomon Hughes), who wonders aloud whether Magic had risen to the level of being one of "them" – as in management – as opposed to another member of the team. (In his role as a columnist, Abdul-Jabbar called the first season "deliberately dishonest" and "drearily dull.")
Notably, "Winning Time" now comes with a disclaimer about its truth-bending aspects right up front. It also follows a 10-part Hulu docuseries produced by, among others, the Buss children, "Legacy: The True Story of the LA Lakers," although for the purposes of this season the 2017 ESPN documentary "Celtics/Lakers: Best of Enemies" provides a better and more pertinent study guide.
Mostly, "Winning Time" reminds us that big stars often possess even bigger egos and fragile, easily wounded feelings.
Yet the many good things about the series – from the performances to the basketball sequences, which feel as if they too have upped their game – would be so much better if the producers just dialed down the snark and salaciousness a few notches, such as the portrayal of the sports press as hungry, cartoonish vultures, or an injured Magic conversing with the cast on his leg.
Those might seem like smallish gripes, but they add up, in a way that's emblematic of how "Winning Time" keeps overplaying what otherwise would feel very much like a winning hand.
"Winning Time" begins its second season August 6 at 9 p.m. ET on HBO, which, like CNN, is a unit of Warner Bros. Discovery.