White mother claims Southwest Airlines thought she was trafficking when traveling with her Black daughter, according to lawsuit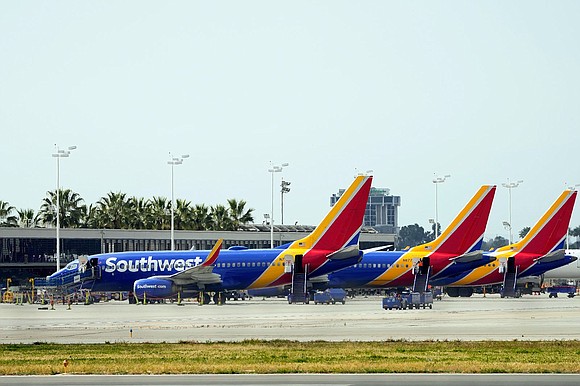 Originally Published: 06 AUG 23 20:56 ET
Updated: 06 AUG 23 22:32 ET
By Jamiel Lynch, CNN
(CNN) — A mother is suing Southwest Airlines for racial discrimination, saying she was accused of human trafficking when traveling with her biracial child.
Mary MacCarthy, who is White, traveled from California to Denver with her daughter, who is Black, to attend her brother's funeral in October of 2021, according to the lawsuit filed Thursday.
"Unbeknownst to Ms. MacCarthy, while they were in the air, a Southwest employee called the Denver Police Department to report Ms. MacCarthy for suspected child trafficking for no reason other than the different color of her daughter's skin from her own," the suit alleges.
As MacCarthy and her daughter were walking down the jet bridge, they were confronted by Denver police officers, it continues.
"The officers began questioning Ms. MacCarthy and made it clear that they were given the racially charged information that Ms. MacCarthy's daughter was possibly being trafficked by her simply because Ms. MacCarthy is White and her daughter is Black.
After significant questioning, during which Ms. MacCarthy's daughter began to break down in tears, Ms. MacCarthy was eventually allowed to leave by the officers, but not before this display of blatant racism by Southwest Airlines caused Ms. MacCarthy and her daughter extreme emotional distress," the lawsuit adds.
MacCarthy believed the officers in Denver were there to tell her about another death in her family but were told an employee of the airline had reported her as a possible human trafficker, according to the lawsuit.
In an interview with CNN following the incident last year, MacCarthy shared an email she sent to the airline asking for an apology.
In her email to Southwest's media team, MacCarthy said she wanted a written apology from the airline, immediate reimbursement of the full price of their tickets and "additional compensation to account for the trauma imposed on an innocent family, and especially on a grieving 10-year-old Black girl."
At the time, Southwest said they were "disheartened" by her account of the events.
"We are conducting a review of the situation internally, and we will be reaching out to the customer to address her concerns and offer our apologies for her experience traveling with us," Southwest Airlines spokesperson Dan Landson said in a statement to CNN in November 2021. "Our employees undergo robust training on Human Trafficking. Above all, Southwest Airlines prides itself on providing a welcoming and inclusive environment for the millions of customers who travel with us each year."
A spokesperson for Southwest said they had no comment on the pending litigation.
MacCarthy is asking for an unspecified award for damages, including emotional distress, mental anguish, suffering and inconvenience.