Air traffic control 'failure' hits UK airports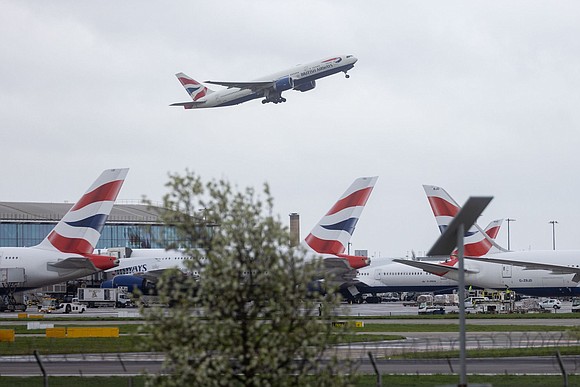 Originally Published: 28 AUG 23 08:42 ET
Updated: 28 AUG 23 11:41 ET
By Barry Neild, Tamara Hardingham-Gill, Catherine Nicholls and Ben Brown, CNN
London (CNN) — Air passengers across Europe faced delays on Monday on one of the summer's busiest travel days after the UK's air traffic control system suffered a "technical issue" resulting in restrictions on flights.
Many travelers were left stuck on the ground desperately seeking updates on their flights, even after the fault was resolved following a morning of disruption.
Britain's National Air Traffic Services (NATS) issued a statement on its website on Monday afternoon saying it had "identified and remedied the technical issue affecting our flight planning system this morning."
It added: "We are now working closely with airlines and airports to manage the flights affected as efficiently as possible.
"Our engineers will be carefully monitoring the system's performance as we return to normal operations."
The fault came on the last day of a summer public holiday weekend in the UK, meaning many vacationers would be affected.
NATS said it was working with airlines and airports to "manage the flights affected as efficiently as possible."
"Our engineers will be carefully monitoring the system's performance as we return to normal operations."
Earlier, NATS had urged passengers to check with airlines on the status of flights and said its engineers were "working hard to find and fix the fault."
"The flight planning issue affected the system's ability to automatically process flight plans, meaning that flight plans had to be processed manually which cannot be done at the same volume, hence the requirement for traffic flow restrictions," the statement continued.
"Our priority is always to ensure that every flight in the UK remains safe and we are sincerely sorry for the disruption this is causing. Please contact your airline for information on how this may affect your flight."
Traveler Lee Vanstone, who is based in the UK, tweeted a photo of fellow passengers waiting at Pisa Airport on Monday after his flight was delayed.
Meanwhile, Mike Wooldridge shared an image of the departures board at Amsterdam Airport Schiphol that showed various canceled flights headed to the UK.
Earlier today, a spokesperson for London's Heathrow Airport, one of Europe's busiest aviation hubs, said it was "likely that schedules to all UK airports are affected."
"Passengers who have a journey later today should check with their airlines directly."
Gatwick Airport, south of London, reported "some delays" but said it was "not a major issue at the moment."
Gatwick Head of Communications Bronwyn Huband told CNN the airport was trying to figure out what the technical issues meant for flights.
She said "some cancellations are likely" and the control tower was talking to the planes.
A spokesperson for Manchester Airport, in northern England, told CNN: "We are aware of a nationwide air traffic control issue that is affecting flights in and out of airports across the country. Manchester Airport is currently operating as normal but flights may be disrupted. Passengers should check their flight status with their airlines."
Logan Air, a UK airline mainly serving Scotland, posted on social media that there had been a "network-wide failure of UK air traffic control computer systems this morning."
"Although we are hopeful of being able to operate most intra-Scotland flights on the basis of local coordination and with a minimum of disruption, north-south and international flights," it tweeted.
Ireland's air traffic control service provider AirNav had said that there were "significant delays" to flights traveling within UK airspace on Monday.
"Flights between Ireland and UK airports, and flights traveling to or from Ireland that travel through UK airspace are experiencing significant delays," it said. "At this time, there is no certainty as to when flights will be back on schedule, so passengers who are due to travel today should contact their airlines in the first instance to check if their flights are delayed."