Prosecutors will investigate Spain soccer boss Luis Rubiales over unwanted kiss with Jenni Hermoso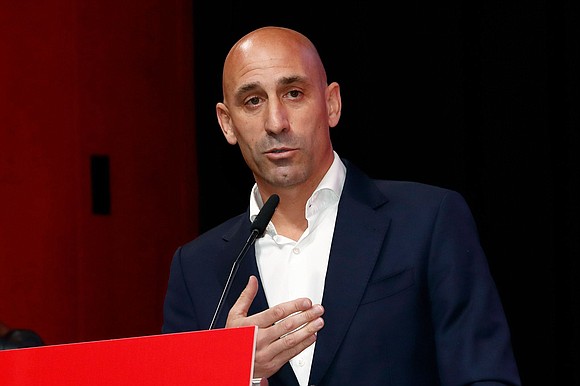 Originally Published: 28 AUG 23 10:01 ET
Updated: 28 AUG 23 11:19 ET
By Pau Mosquera and Claudia Rebaza, CNN
(CNN) — Spanish prosecutors have opened an investigation that could end in sexual aggression charges against the country's soccer federation boss Luis Rubiales.
The case centers on the unwanted kiss Rubiales gave to star player Jenni Hermoso as Spain won the Women's World Cup on August 20, according to a Monday statement from the Spanish Prosecutors Office.
"We have agreed to contact Jennifer Hermoso in order to inform her of her rights as a victim of an alleged crime of sexual aggression in the next 15 days," the statement says.
This comes ahead of an "extraordinary and urgent" meeting called by the Spanish football federation (RFEF) and scheduled for Monday afternoon, after Rubiales was provisionally suspended by FIFA, soccer's world governing body, over the weekend.
Mother starts 'hunger strike' in church
Meanwhile, Rubiales' mother locked herself in a church and went on hunger strike to protest the "inhumane, bloodthirsty hunt" of her 46-year-old son, Spanish media reported.
Ángeles Béjar reportedly said Monday that she would remain in the church in Motril, near Granada in southern Spain, "indefinitely, day and night" until justice was served toward Rubiales.
The soccer boss and the RFEF have been embroiled in controversy ever since he kissed 33-year-old attacker Hermoso on the lips after Spain won its first Women's World Cup title with victory against England.
Rubiales said that he made a mistake but called the kiss consensual, while Hermoso said that she did not give her permission to be kissed and felt violated.
"I felt vulnerable and a victim of an impulse-driven, sexist, out of place act without any consent on my part," she said on social media. "Simply put I was not respected."
In a defiant speech on Friday, Rubiales refused to resign from his position and vowed to "fight to the end" – a stance that prompted a wave of heavy criticism from teams, players, politicians and union officials.
In response to Rubiales' decision to stay, RFEF vice president Rafael del Amo and 11 members of the Spanish national women's soccer program have resigned.
Hermoso and her World Cup teammates said that they would not play again for Spain until Rubiales has been removed from his position.
The RFEF, however, is standing behind its chief, accusing Hermoso of lying about the incident and threatening legal action against her and others.
On Saturday, FIFA said it was suspending Rubiales from "all football-related activities at national and international level" for 90 days while disciplinary proceedings are underway.